--- Latest from Brussels ---
--- Actualités ---
URBiNAT Follower City Brussels will host the upcoming Consortium Meeting on 26-28 September.
Artistic synthesis of the local diagnostic was presented to the Neighbourhood Council of Neder-Over-Heembeek on the 30th of April 2022.
Synthèse artistique du diagnostic local a été présentée au Conseil de quartier de Neder-Over-Heembeek le 30 avril 2022.
Brussels: URBiNAT Follower City
Bruxelles: Ville Suiveuse URBiNAT
Located in the centre of the country, the City of Brussels was founded around the year 1000. It is densely populated with 176,545 inhabitants over 32.61 km2 and the population continues to grow quite rapidly. The city is composed of different territories that have been gradually linked to it and that are very different from each other in their social composition. There is an average of 25m2 of green space per inhabitant and an urban forest is developing in the north. This project with others (green facades and roofs, community vegetable gardens and green spaces…) will help to counter the expected effects of climate change-that is, urban heat islands and flooding.
A local diagnostic was conducted from autumn 2019 to autumn 2021 in Neder-Over-Heembeek, with participatory workshops and activities, collection of qualitative and quantitative data, and a regular presence of the URBiNAT team in the neighbourhood. The results of this analysis were reported to the European Commission in a deliverable, which was then synthesised in collaboration with an artist in order to create a colouring map that you can see and download below.
To download map click HERE
Following this diagnostic, the co-design phase has been launched with the aim of co-creation the "local urban plan" for the "healthy corridor". You can meet the local team in Neder-Over-Heembeek at the following events :
"Fête de la place" at Place St Nicolas on 28 May 2022
"Fête de quartier Versailles" on 25 June 2022
"Val Maria on Fire" on 29 June 2022
"Fête de quartier Val Maria" in Septembre 2022 (date to be confirmed)
Working groups on the potential intervention sites and for each working theme will be organised soon. The dates and details on how to participate will be communicated via the local communication platforms (Facebook 1120 NOH, neighbourhood website, NOH mailing list, …).
Située au centre du pays, la Ville de Bruxelles a été fondée vers l'an 1000. Elle est densément peuplée avec 176.545 habitants sur 32,61 km2 et la population continue à croître assez rapidement. La ville est composée de différents territoires qui lui ont été progressivement liés et qui sont très différents les uns des autres dans leur composition sociale. Il y a en moyenne 25m2 d'espaces verts par habitant et une forêt urbaine se développe dans le nord. Ce projet avec d'autres (façades et toits verts, jardins potagers communautaires et espaces verts…) contribuera à contrer les effets attendus du changement climatique, c'est-à-dire les îlots de chaleur urbains et les inondations.
Une analyse partagée du territoire a été réalisée entre l'automne 2019 et l'automne 2021 à Neder-Over-Heembeek, via des ateliers participatifs, des récoltes de données qualitatives et quantitatives, et une présence dans le quartier de l'équipe URBiNAT à Bruxelles. Le résultat de cette analyse fût un livrable rendu à la Commission européenne, qui a été synthétisé en collaboration avec une artiste pour créer une carte à colorier que vous pouvez voir et télécharger ci-dessous.
Pour télécharger ce graphique cliquer ICI
Suite à ce diagnostic, la phase de cocréation de projets (« co-design ») a été entamé en vue de développer ensemble le « plan urbain » pour le « couloir de bien-être ». Vous pourrez retrouver l'équipe de projet à Neder-Over-Heembeek à ces dates :
Fête de la place à la Place St Nicolas le 28 mai 2022
Fête de quartier Versailles le 25 juin 2022
« Val Maria on Fire » le 29 juin 2022
Fête de quartier Val Maria en septembre 2022
Des groupes de travail par site d'intervention potentiel et par thématique serons organisés très prochainement, et serons communiqués via les réseaux du quartier (Facebook 1120 NOH, site web du quartier, mailing liste NOH, …). URBiNAT: The Healthy Corridor Story
URBiNAT: L'Histoire d'un "Couloir de Bien-Être"
SUBTITLES: Click the CC at the bottom of the Video for subtitles in Bulgarian, Danish, Dutch, English, French, Italian or Portuguese
SOUS-TITRES : Cliquez sur le CC au bas de la vidéo pour obtenir des sous-titres en bulgare, danois, néerlandais, anglais, français, italien ou portugais
Mapping of Intervention Area
Cartographie sonore dans la zone d'intervention
URBiNAT Research partners in Brussels collected soundscapes in the study area in Neder-Over-Heembeek, as part of the fieldwork leading towards the local diagnostic report. These were uploaded onto a participatory sound map that you can access HERE, to get a sensory experience of the neighbourhood.
Les chercheurs d'URBiNAT à Bruxelles ont collecté des paysages sonores dans la zone d'étude de Neder-Over-Heembeek, dans le cadre du travail de terrain menant au rapport de diagnostic local. Celles-ci ont été mises en ligne sur une carte sonore participative que vous pouvez consulter ICI, pour avoir une expérience sensorielle du quartier.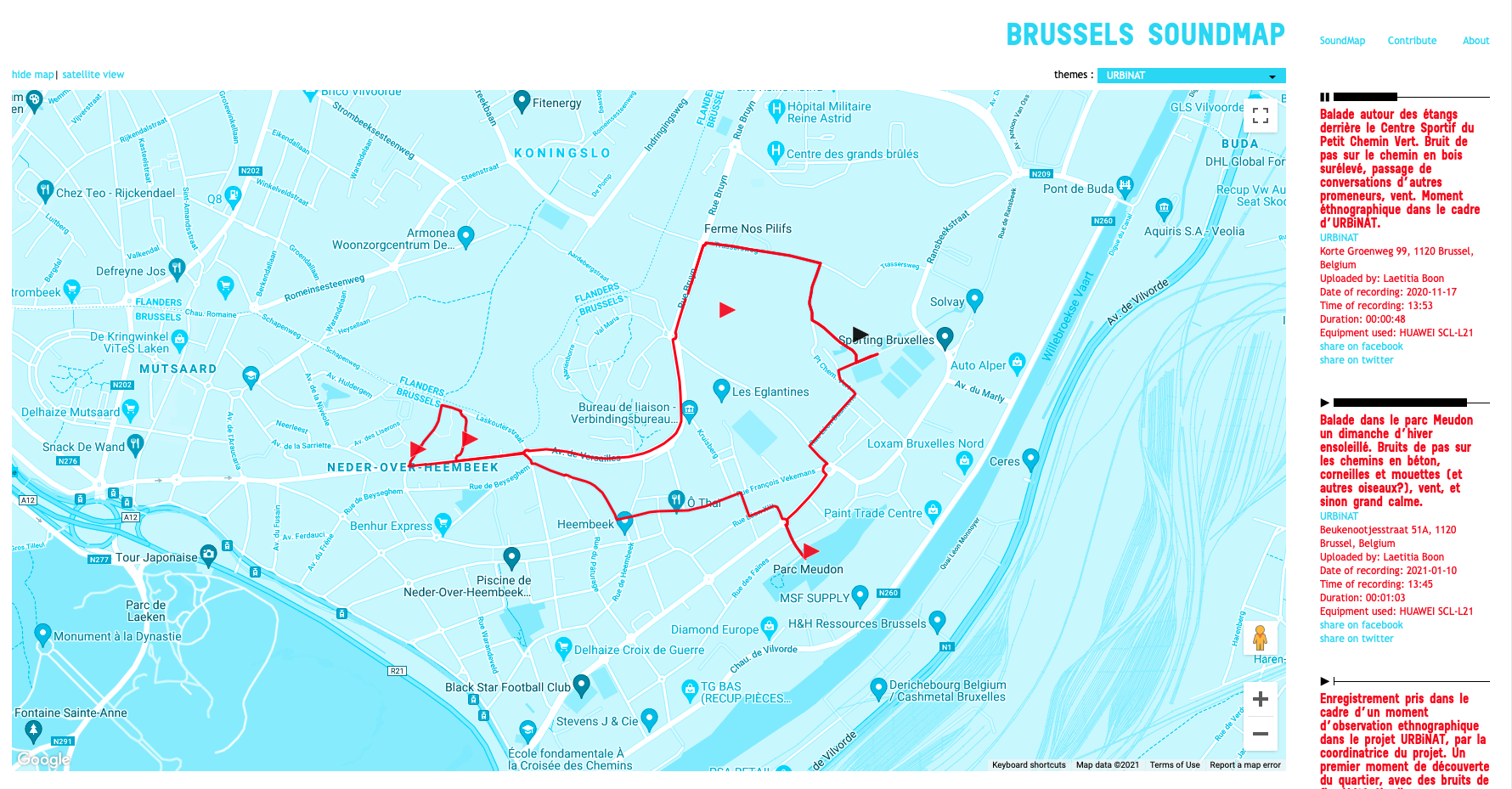 The BNA-BBOT Brussels Sound Map, a participatory sonic cartography, fed into through the URBiNAT Living Lab in Brussels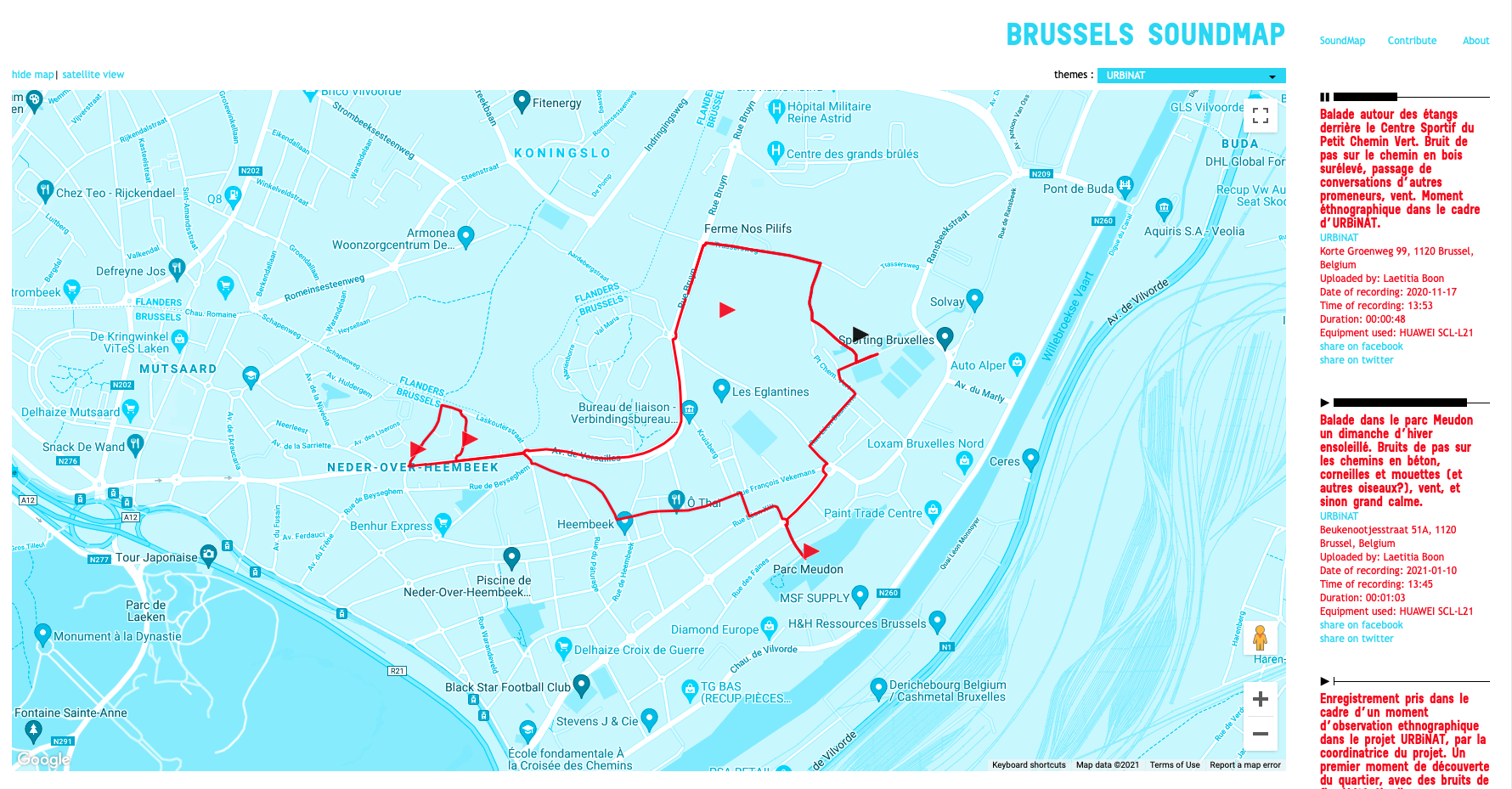 La carte sonore de Bruxelles BNA-BBOT, une cartographie sonore participative, alimentée par le Living Lab d'URBiNAT à Bruxelles.
Local URBiNAT Team
L'équipe locale URBiNAT
Other cities
Front Runners
Follower Cities
Observers