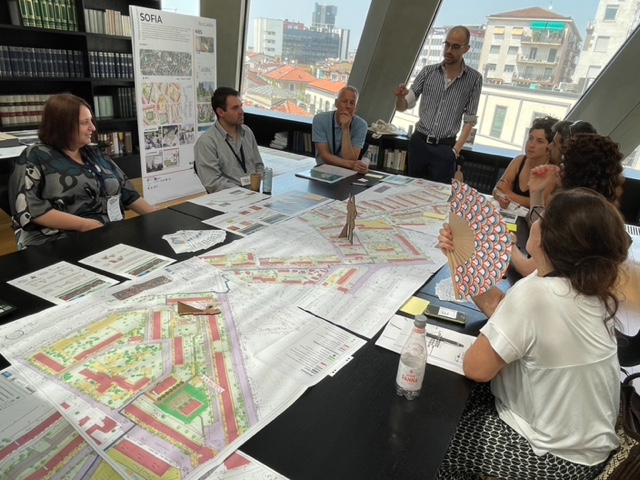 Milestone 7: Market Potential of NBS and structuring the impact of Nature-Based Enterprises
---
Assessing the market potential of NBS
Since 2018, a dedicated Work Package (team) within URBiNAT has focused on assessing the market potential of NBS. This has involved identifying and collecting data from enterprises, including start-ups, cooperatives and non-profit organisations, that are involved in the development and commercial exploitation of NBS (Nature-Based Enterprises).
URBiNAT researchers have used different indicators and matrices to assess the market potential for different NBS solutions some of which can be seen below. This work had directly fed into high-level policy recommendations focused on how to replicate and scale best practice NBS business cases.
In due course, URBiNAT partners and interested third parties will be given access to a report on the market potential of the URBiNAT NBS catalogue.
In this section we present four categories of Nature-Based Enterprise corresponding to the four cateogories of NBS in as defined by the URBiNAT project.
For each category of Nature-Based Enterprise we have selected three representative enterprises from URBiNAT Frontrunner Cities. Click on each NBE Card for more details.
A participatory NBE is an enterprise or organisation that engages people using participatory methods as a core part of its value proposition relating to Nature, including by synthesising and processing benefits of NBS.
Featured Participatory NBE
Matrix: Structuring the impact of NBEs
In this table ➡️ we present examples of NBEs in each Frontrunner city corresponding to the four categories of NBS used by the URBiNAT project.
In each Frontrunner city we have identified examples of economically viable NBEs delivering high value social and environmental services.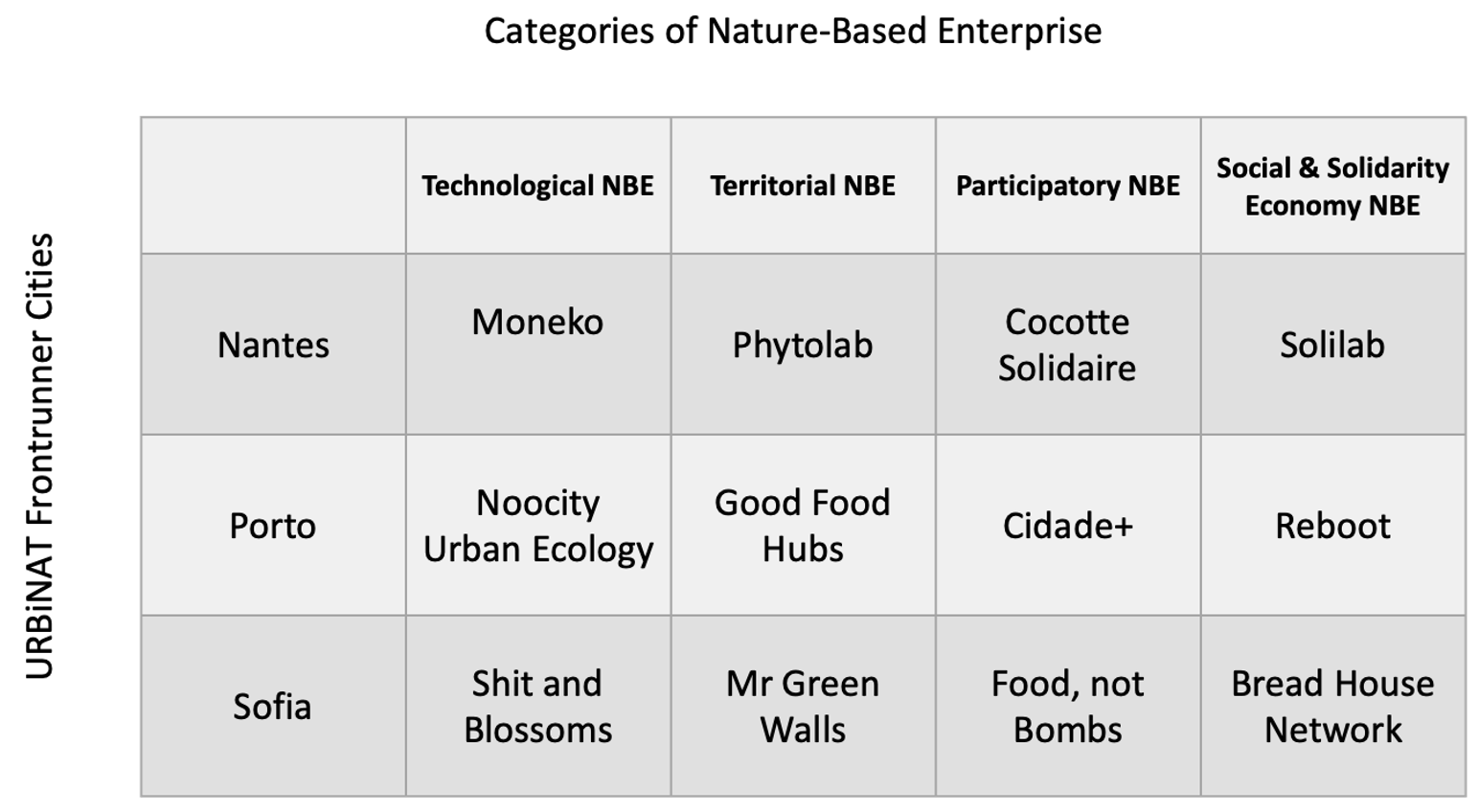 Matrix mapping NBEs against NBS, URBiNAT frontrunner cities (Source: IKED & ITEMS, 2022)
In practice, NBEs may not relate to specific categories of NBS, but their orientation and mechanisms for value-creation may relate to a combination of several NBS, or NBS categories.
The figure ⬇️ maps the estimated position of each of the selected NBEs in a scatter diagram that allows for combinations of NBS types.
This results in indications of  "clusters". What we observe is one cluster combining Participatory and Social and Solidarity Economy" NBS, and a second combining Technology and Territorial, with some variation which of these dimensions weigh most heavily.
All three URBiNAT frontrunner cities present NBEs that populate all these categories. The leading NBEs from Sofia are somewhat stronger linked to technological NBS  however, with Nantes and Porto lean more towards participation and the social dimension.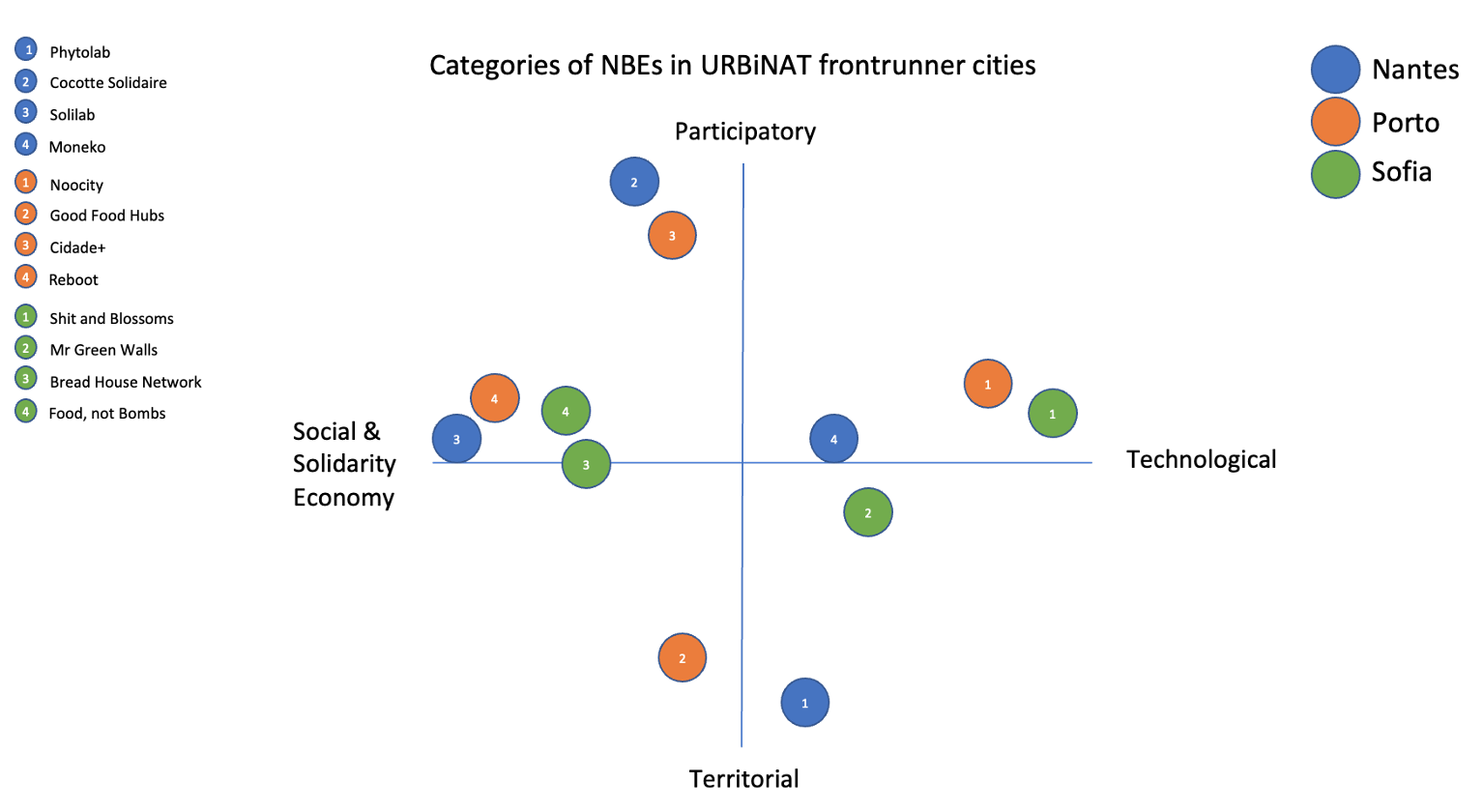 Scatter diagram, NBEs scattered against NBS (Source: IKED & ITEMS, 2022)
The figure ➡️ presents a stylised illustration of the framework conditions for NBEs that appear in each of URBiNAT's frontrunner cities, indicating their relative performances across selected key dimensions.  The further out from the centre, the stronger a particular city scores in any particular aspect. Generally, Nantes can be seen to offer the most favourable conditions for NBEs, although Porto is doing well in regard to conditions for start-ups and also public investment. Sofia is generally in a less favourable situation, except for digital services and partly R&D (including technical skills).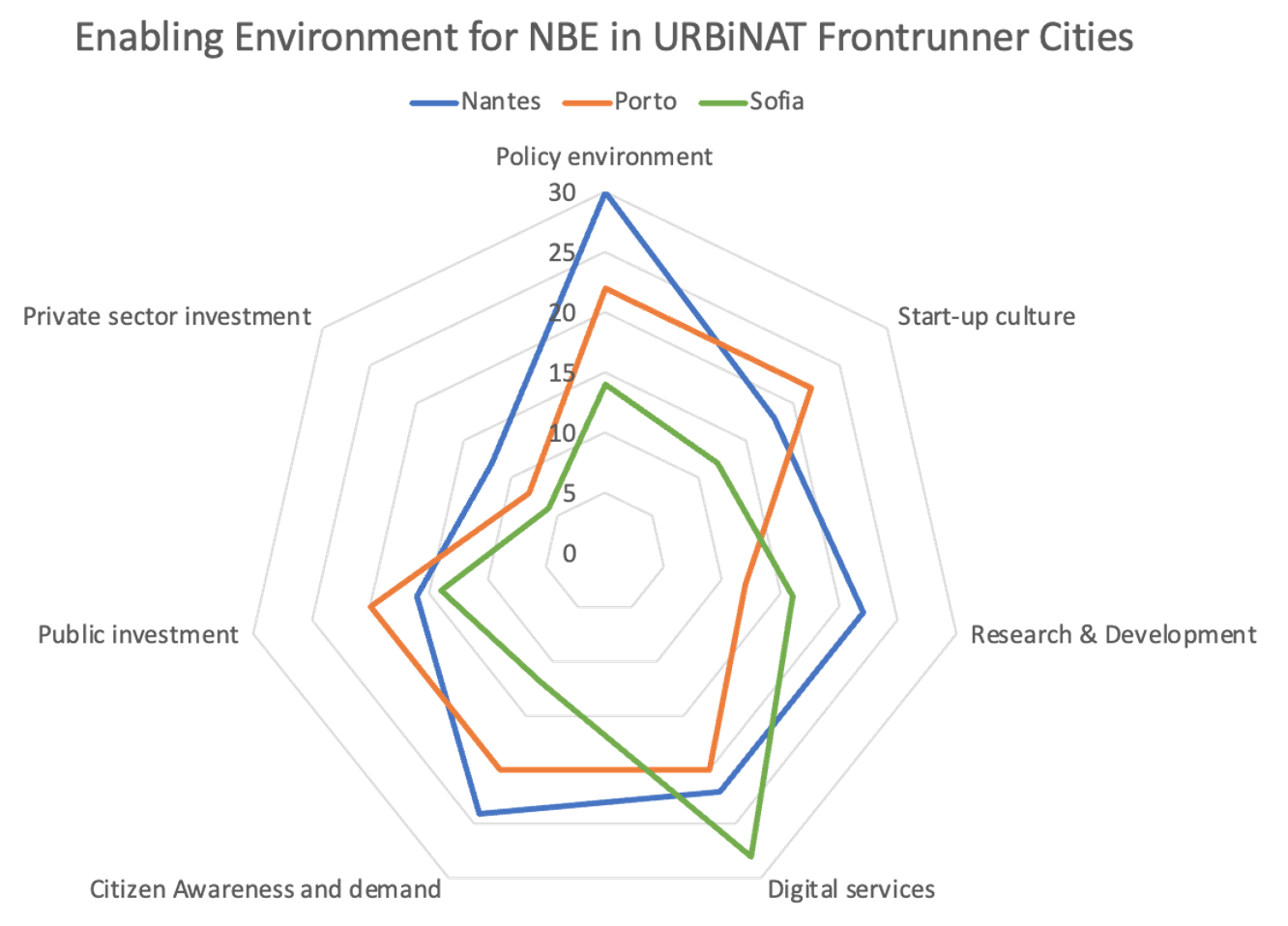 External factors framing conditions for NBEs (Source: IKED & ITEMS, 2022)
[Section Heading 10] NBS Catalogue