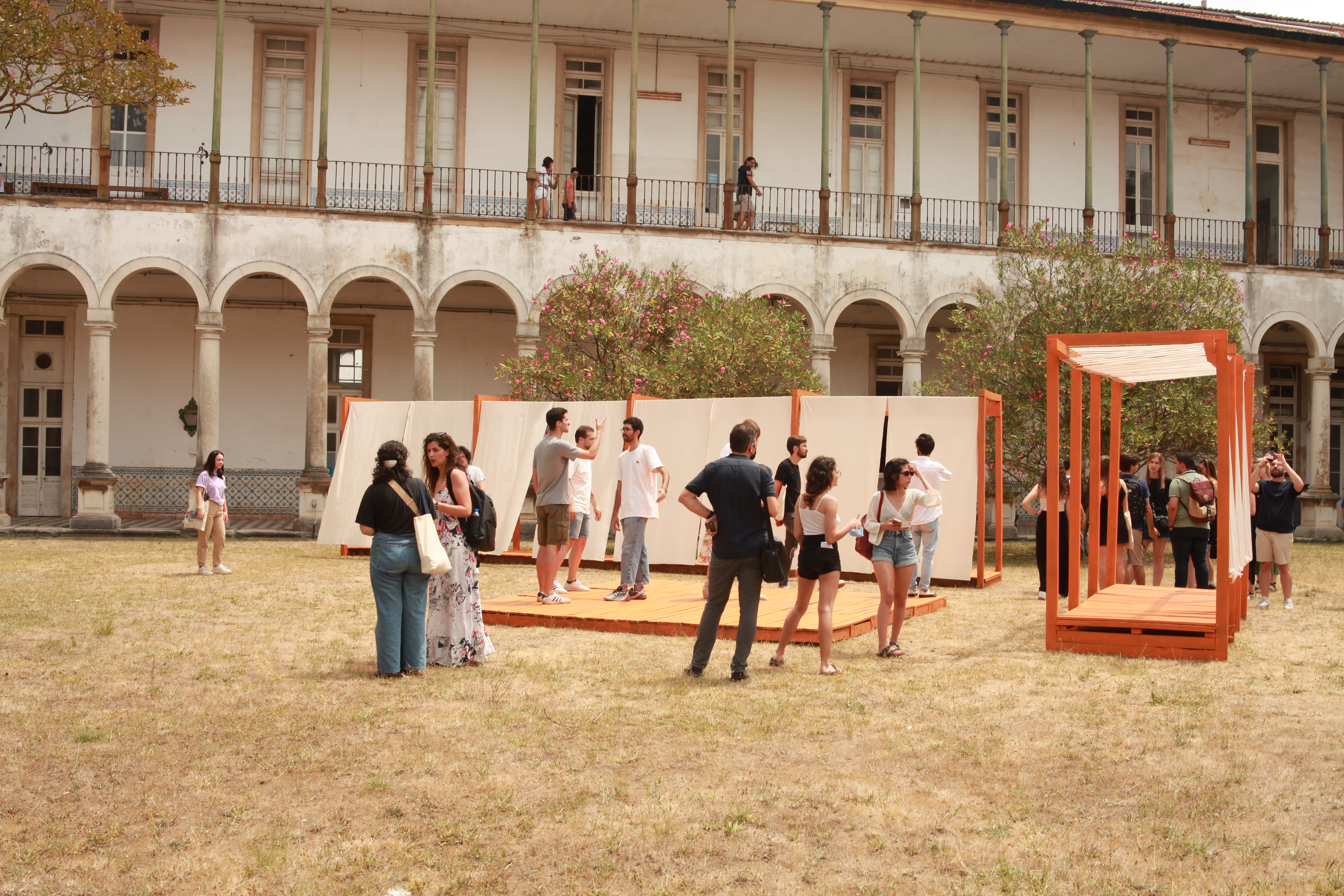 URBiNAT Summer School, 6 – 12 July 2023
---
HEALTHY HOME Summer School | Coimbra ??
Healthy Home Summer School: Human and nature-based solutions for inclusive and innovative urban regeneration
6 – 12 July, 2023, University of Coimbra, Portugal
In recent years, cities have faced new challenges that demand creative ways of developing solutions. Climate change and social justice are pushing academia, municipalities, stakeholders and local citizens to work together to co-create another way of developing an inclusive urban regeneration.
The public space is at the centre of this urban transformation that puts in dialogue nature, mobility, community, culture, education and economy to promote places that offer better quality of life to the local communities. Places that are healthy homes.
All the information you need to know about the Healthy Home Interdisciplinary Summer School in our brochure. Download here ⬇️
Healthy Home is an Interdisciplinary Summer School that invites students (graduation, master and doctoral), citizens, technicians and local organisations to contribute to this debate with their knowledge and experience.
The aim of this workshop is to explore a healthy corridor for Coimbra, co-created with the local community of Eiras, by testing and improving the methodologies developed by the URBiNAT partners. In this sense, we challenge participants to develop processes and products that can transform the healthy corridor into a healthy home connecting Relvinha, Ingote and Bolão social housing with Choupal natural park.
This workshop is based on the experience of CASA Architectural Design Workshop that has been organised by University of Coimbra, namely by its Department of Architecture. In this edition CASA (HOME) will open the architectural design to other forms of knowledge that need to dialogue in the public space, such as social sciences, environmental sciences and humanities. This interdisciplinary approach is a field of opportunity to develop critical perspectives on the way of thinking and doing inclusive urban regeneration.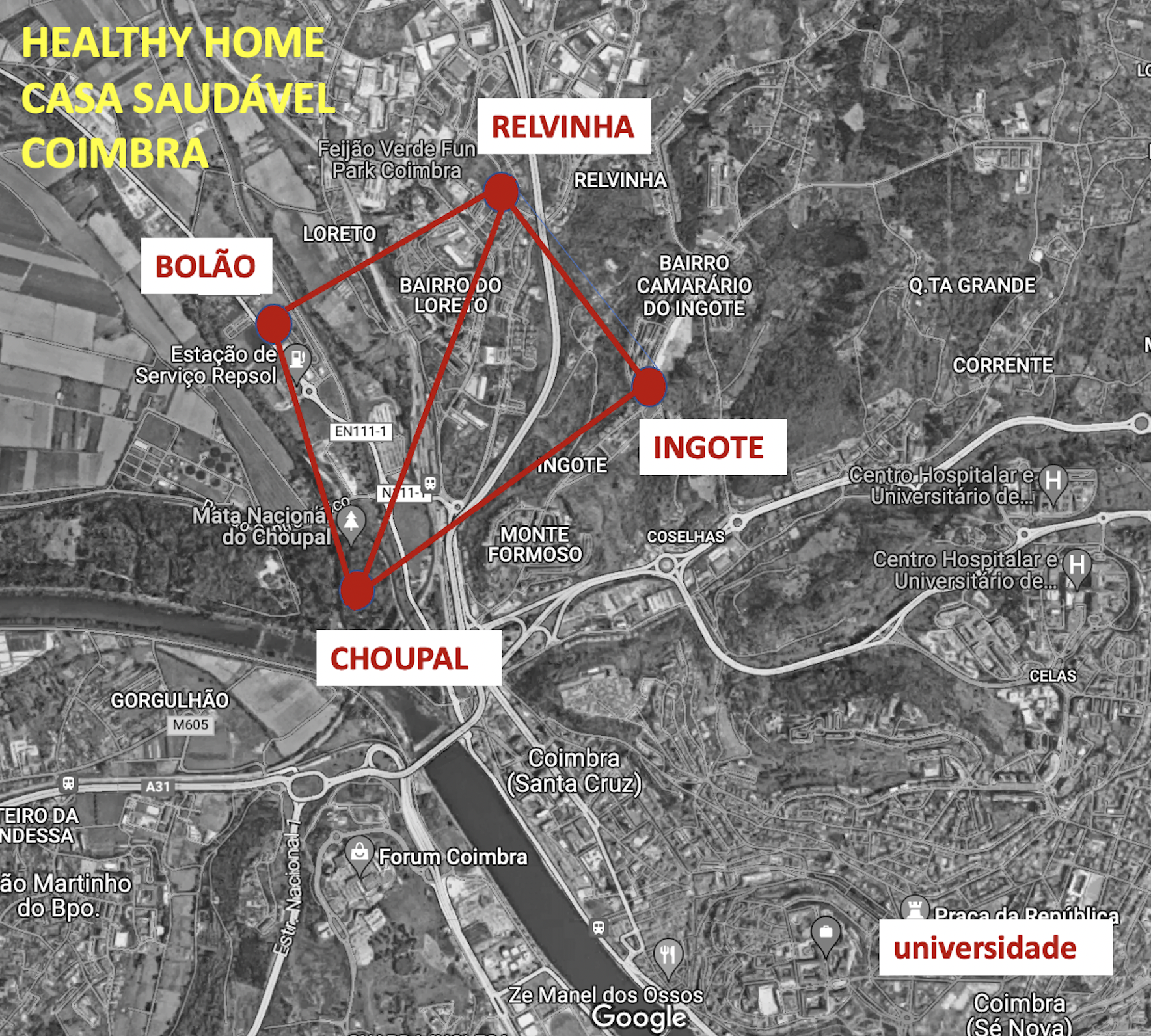 Intervention Area
Healthy Home Workshop will be held in Eiras, the north district of Coimbra, taking advantage of the dialogue with the local community that is already active through several projects, as Bairros Saudáveis. Students, citizens, technicians and local organisations are invited to attend studio activities, training sessions, visits to the intervention area and local associations and conference with keynote speakers. Tutors are members of URBiNAT project and experts from different fields invited to support the teams.
Human and nature-based solutions for inclusive and innovative urban regeneration
Theme
Co-creation of an healthy corridor in Coimbra (Relvinha – Ingote – Bolão)
Main organisers
Departamento de Arquitetura da Universidade de Coimbra (DARQ-UC)
Centro de Estudos Sociais (CES)
Partners
Câmara Municipal de Coimbra
Casa da Esquina
Cooperativa de Construção e Habitação Económica Semearrelvinhas
Venue
Colégio da Trindade, Coimbra, Portugal – Keynote lectures
Colégio das Artes, Coimbra, Portugal – Studio activities
Dates
6 to 12 July 2023
Working Language
English and Portuguese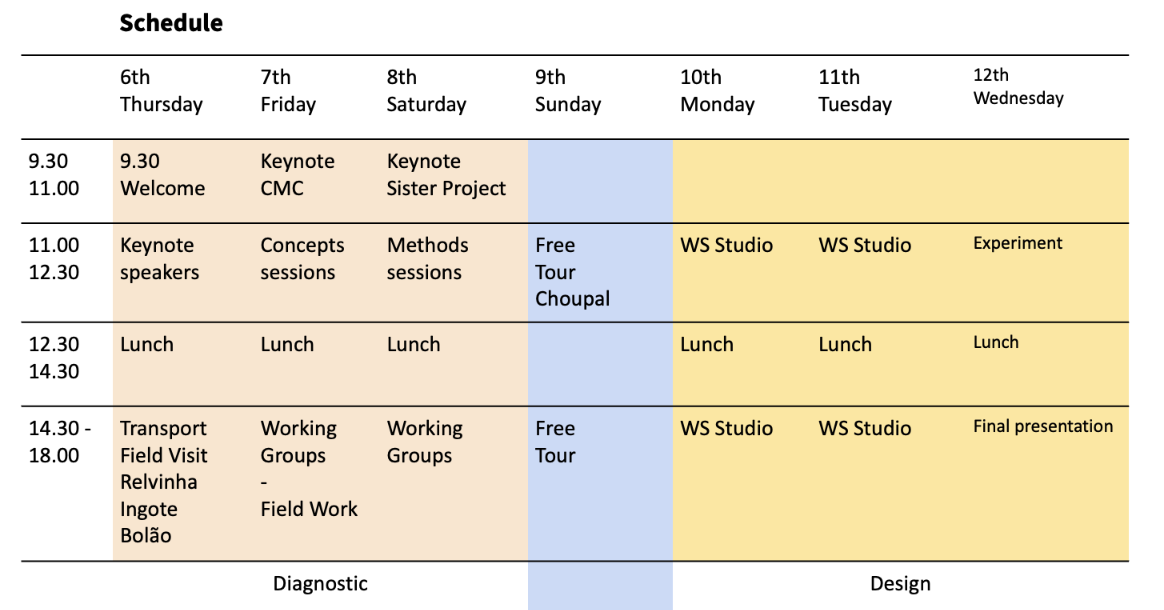 Summer School Schedule
Day 1 - July 6
09:30 Welcome session
11:00 Keynote speakers
José António Bandeirinha DARQ/CES
Luciane Lucas dos Santos CES
14:30 Field visits
Day 2 - July 7
09:30 City Session: Coimbra Municipality
11:00 URBiNAT Concepts Session
14:30 Workshop
Day 3 - July 8
09:30 City Session:
Cascais Municipality (proGIreg project)
11:00 URBiNAT Methods Session
14:30 Workshop
18:00 Local Diagnostic Presentations
Day 4 - July 9
11:00 Walk in Choupal and Mondego riverfront
Day 5 - July 10
09:30 Workshop
14:30 Workshop
Day 6 - July 11
09:30 Workshop
14:30 Workshop
Day 7 - July 12
09:30 Workshop
14:30 Final presentations with guest critics
17:30 Diploma ceremony
20:00 Closing dinner
Applications for Healthy Home Summer School 2023 are closed‼️
Eligibility
Healthy Home opens applications for three groups:
Students (graduation, master, PhD) from all fields of knowledge
Municipal and governmental technicians
Citizens, members of associations
Fees
Students: 25 EUR (students can apply for 5 scholarships that are offered by URBiNAT)
Municipal and governmental technicians: 100 EUR
Citizens and members of associations: 50 EUR
Travel and accommodation is not included. Please find below a list of guesthouses, hostels and hotels.
The Summer School will offer lunch and final dinner.
Note that accommodation is not included in the summer school fee. Participants are expected to make their own travel and accommodation arrangements.  Please find below a list of guesthouses, hostels and hotels in Coimbra:
Student Residence
Student residence that rents rooms per night over the summer:
Hostels & Guesthouses
WW Hostel & Suites
BUS Station Suites & Studios
NS Hostel
There is also a wide variety of "Alojamento Local"/ local accommodation (guest houses, appartements,…) available on the well-known booking platforms.
Tutors with different backgrounds and expertise will guide the groups of students during the 6 days of activities.