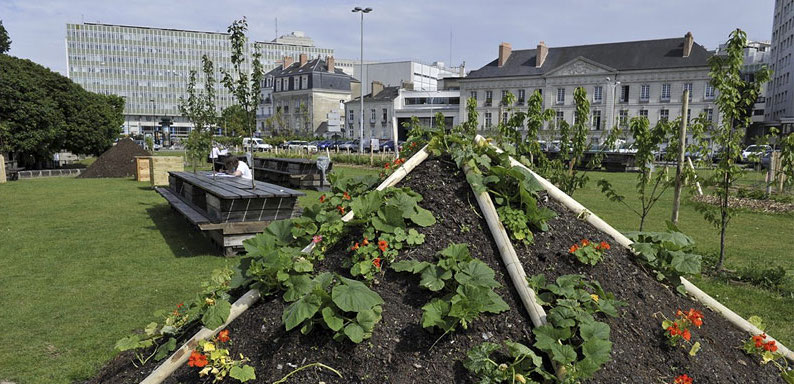 Nantes is situated on the Loire river 50km from the Atlantic coast. The city was the capital of Brittany before its union with France in 1532. Historically, the city is an economic center. It was one of the largest French ports during the XVIIIe century, then a dynamic industrial center during the XIXe century.
Currently the population is about 303.000 inhabitants, the double by considering the metropolitan area. It is expanding of more than 6% between 2010 and 2015. The economy is nowadays service-oriented. Nantes invests on its quality of life to attract firms and tourist, by developing its cultural life and valorising its natural environment.
Nantes est située sur la Loire à 50 km de la côte atlantique. La ville était la capitale de la Bretagne avant son union avec la France en 1532. Historiquement, la ville est un centre économique. Il fut l'un des plus grands ports français au XVIIIe siècle, puis un centre industriel dynamique au XIXe siècle.
Actuellement la population est d'environ 303.000 habitants, le double en considérant l'aire métropolitaine. Il est en expansion de plus de 6% entre 2010 et 2015. L'économie est aujourd'hui axée sur les services. Nantes investit sur sa qualité de vie pour attirer les entreprises et les touristes, en développant sa vie culturelle et en valorisant son environnement naturel.
The city can build on a natural site characherised by a dense network of streams and rivers. The municipality also implements and experiences measures in favour of sustainable development including NBS experiences. This innovative work was rewarded in 2013 with the European Green Capital prize.
La ville peut s'appuyer sur un site naturel caractérisé par un réseau dense de ruisseaux et de rivières. La municipalité met également en œuvre et expérimente des mesures en faveur du développement durable, y compris des expériences NBS. Ce travail innovant a été récompensé en 2013 par le prix de la Capitale verte européenne.
La ville est actuellement impliquée dans plusieurs transformations urbaines. L'emblématique concerne les espaces libérés par la désindustrialisation au cœur de la ville, sur l'île de Nantes. Avec le soutien financier de l'Etat, Nantes est également engagée dans un ambitieux programme de rénovation urbaine dans quatre quartiers de logements sociaux.
The city is currently involved in several urban transformations. The iconic one regards areas freed by deindustrialisation in the heart of the city, on the island of Nantes. With the financial support of the state, Nantes is also engaged in an ambitious urban renewal programme in four social housing neighbourhoods.
Sustainable organic urban farming is one of the ways in which previously unused areas are being converted into productive plots with multiple benefits for the local population of Nantes Nord.