General information:
Moneko is a local currency in Nantes urban area and its surroundings. This local currency started its operation in 2019, building upon experiences from other local currencies in France.  In France approximately 80 local currencies exist. The idea is that the currency should operate in territories that are relevant to the goals that they should fulfill. Territories should be of the optimal size to meet the criteria required to pursue their objectives, that is having the potential to meet the needs of the citizens of the area( Blanc & Fare, 2018.)
Target group and ambitions: 
Moneko promotes the consumption of locally grounded products and services. The criteria which Moneko uses for providers to be connected to the Moneko currency are based on the pillars of ethics and sustainability. Organisations at which customers can pay with Moneko currency are strongly linked to NBS including environmental, cultural, and health- based products and services. As of 2022 the number of providers are approximately 300 and the individual users approximately 2000 persons. The turnover in regard to the transaction volume in 2021 was approximately 600 000 euros. Each Moneko is equivalent to 1 euro. This enables easy use of the currency and the Moneko exists in both digital (mobile application) and physical format (Moneko bills are printed locally). The reason behind keeping this dual system is to adhere to all users; some of the Moneko users are for, instance,  individuals who refrain from using digital payment systems.
Business model:
Hybrid business model is prevailing for Moneko. It is important for the founders that the company generates sufficient funds to cover basic costs such as rent to Solilab (where Moneko has its prime office) and salaries to the four staff, of which two are co-founders of the organisation.
Environmental challenges, social and solidarity economy:.
The biggest challenge for Moneko at this stage is to connect more providers and users to the currency. The team at Moneko focuses its effort on information sharing and awareness building. It is important to make use of the territory which has been assigned to Moneko use.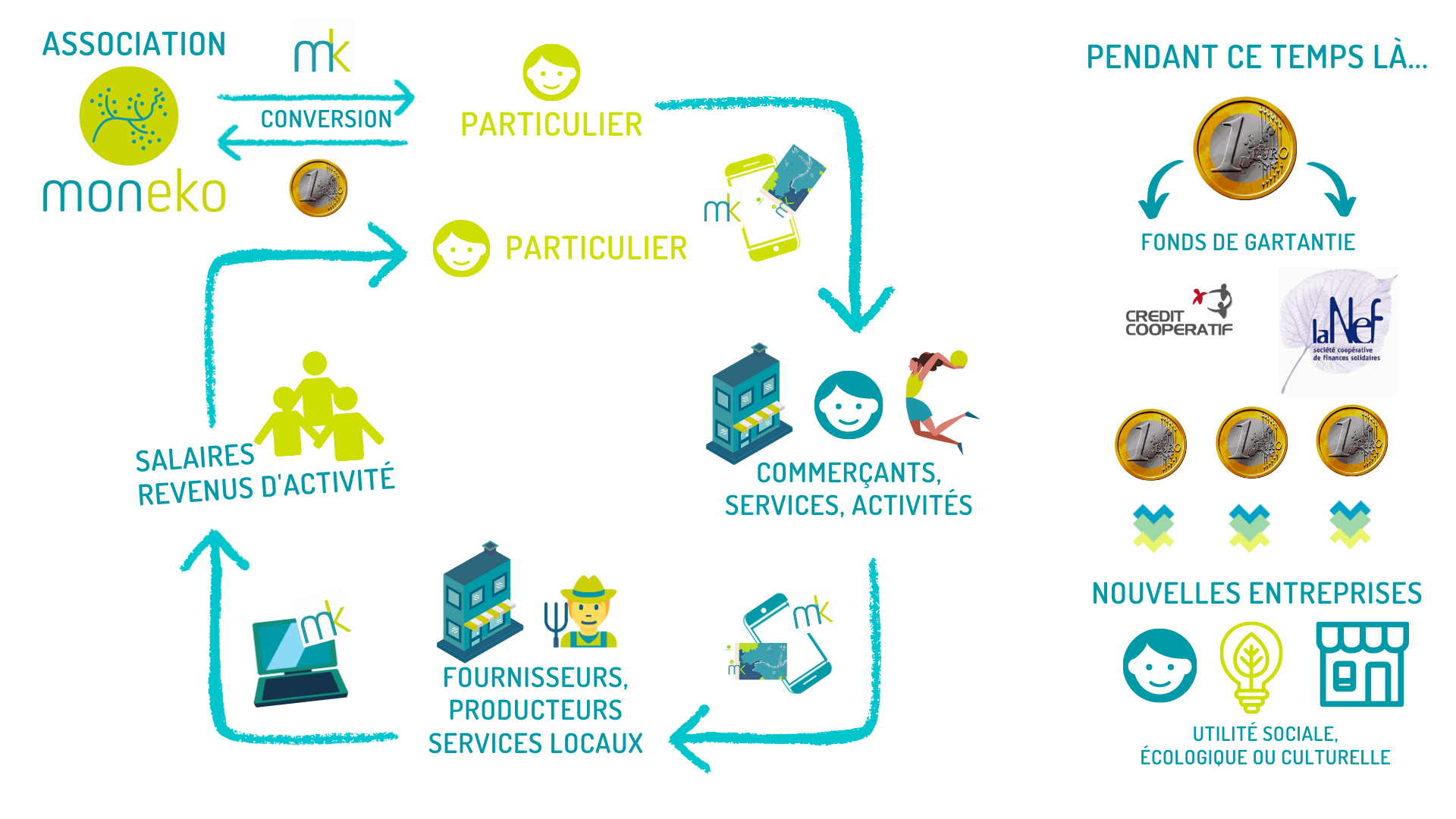 Source: https://moneko.org/