URBiNAT cities through the lens of the COVID-19 pandemic
As COVID-19 tore across Europe and the world it struck at the heart of our societies, taking lives and revealing in a harsher, more uncompromising light the extent of social, economic, and environmental disparities within our communities. In some sense, the pandemic spread indiscriminately. Yet, it is clear that factors such as income level, housing type, neighborhood, and other socioeconomic variables would (once again..) determine starkly different levels of exposure or risk. Individuals, families, and communities have not suffered the effects of the pandemic in the same way. But what does this really mean? How have people coped with the restrictions imposed by COVID-19 mitigation policies? What lessons can we draw from this period?
The seven URBiNAT cities – Sofia, Nantes, Porto, Brussels, Siena, Høje-Taastrup, and Nova Gorica – give us a picture of the repercussions, challenges, responses, and alternatives that emerged with the pandemic. In this series of seven posts, we share the main measures implemented by local municipalities, and some stories to inspire alternative and cooperative ways to live together (in) the city. The full version will be available in URBiNAT's deliverable related to the compilation and analysis of human rights and gender issues to be released in 2021 (https://urbinat.eu/resources/).
Knud Erik Hilding-Hamann, from DTI, Martin Rosenkreutz Madsen, from Domea.dk, and Nabil Zacharias Ben Chaabane and Margit Bloch Avlund, from the Municipality of Høje-Taastrup, talked about the challenges felt by the populations of the URBiNAT intervention areas, shared some public and private solidarity initiatives that helped overcome those challenges and what were the main lessons, hopes and ideas for the future they took from these experiences.
The two waves of the COVID-19 crisis led to the introduction of restrictive measures in the whole of Denmark, including restrictions in terms of social distancing and limits on the number of people. As such, the main challenge faced by the populations relates to the limits in the number of people that can gather for events, which, in the second wave, were less than 10 persons. Also, the increase in unemployment and the economic repercussions of the pandemic are hitting the deprived neighborhoods harder than other areas of the city. To worsen this situation, there was a recent announcement that many people's homes will be demolished and newly built. Finally, the prolonged pandemic crisis is causing a sense of tiredness that is affecting people's mental health.
The Municipality of Høje Taastrup is working with the Housing Association as best as possible under these circumstances to cope with the many challenges faced by the people. The focus of the work is related to the socio-economic repercussions of the pandemic, and on addressing the increases in unemployment. But times of crisis are also times to strengthen partnerships in the field, and both institutions are working with several NGOs on specific projects.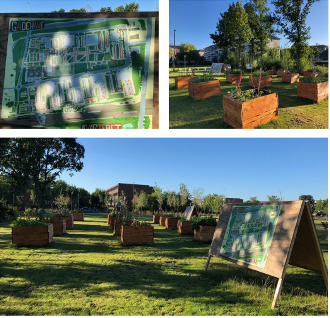 Activities held in a green park area as part of URBiNAT's participatory strategies
Solidarity initiatives that emerged during this crisis are very inspiring to map and put together. Among different initiatives that emerged, we can highlight actions like doing shopping on behalf of persons who have chronic diseases and are vulnerable to COVID-19, giving online medical meetings to allow vulnerable people to see a doctor via video conferencing, setting local testing facilities for immediate COVID-19 tests, or organizing help for required self-isolation to people infected with SARS-COV-2. 
There were also local COVID-19 task forces to help groups of foreign ethnicity understand what to do and how to act to avoid spreading the virus. Other initiatives were, for example, the launching of an app to help detect infection chains quickly that, albeit not fully in operation, was downloaded and used by more than a million people. 
Voluntary solidarity initiatives targeting specifically families deserve a special note. The neighbourhood mothers and fathers are represented by experienced parents helping other less experienced parents to "learn the ways of doing things". They have conducted zoom seminars, expert-hour and advisory online sessions every week. It seems to work well, but probably because these communities were developed prior to the pandemics, so they are used to meeting each other. The difficulty lies in digitally creating new communities and recruiting new members to the communities.
Also, the Neighbourhood Mothers, mostly women with an ethnic minority background, support isolated and vulnerable women. By listening, conveying important information and building bridges between the women and their surroundings, Neighbourhood Mothers give hope and change the lives of other women. The help they provide gives the women strength, so they can help themselves, their children and their family.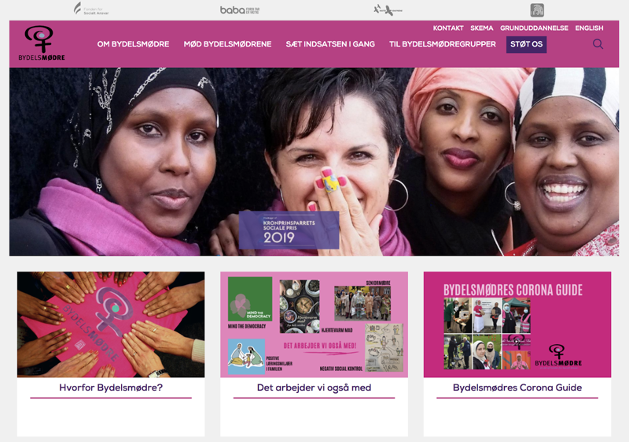 The Neighbourhood Mothers
Looking to the future, we recognize that the main critical challenge for the future lies in the uncertainty and inability to plan activities. The only thing that is certain is continued uncertainty. Nonetheless, the COVID-19 crisis is teaching us that we need to develop organizational resilience in order to deal with similar challenges in the future. Personal resilience differs across different groups, and so people react differently to the crisis. Some are dealing with uncertainty related to working from home, possibly thinking if they can still be recognized for the value they bring. But maybe the key message is that life on earth is too dense, too fast, and too overheated. And a peculiar side effect of the pandemic crisis is that 2020 might be the year where the globe will actually achieve a reduction in CO2, however unintendedly.
This blogpost was elaborated by Rita Campos (CES-UC), based on the interview of Knud Erik Hilding-Hamann (DTI), Nabil Zacharias Ben Chaabane and Margit Bloch Avlund (Municipality of Høje-Taastrup), and Martin Rosenkreutz Madsen (Domea.dk), and conducted in the frame of task 1.5 (inclusion of cross-cutting dimensions human rights and gender) and its corresponding deliverable D1.8 (compilation and analysis of human rights and gender issues) to be released in 2021.
Do you live or work in Høje-Taastrup? We would love to hear from you!
Did you feel the challenges described above? What lessons did you learn? What would you like to add to this picture?
Do you live or work in another city? We would love to hear from you also! How would you describe the challenges and opportunities that emerged with the pandemic in your city? Were/Are they similar to those in Høje-Taastrup?