3D Immersion in Porto Healthy Corridor: Past, Present and Future
As part of the process of co-designing a Healthy Corridor for the districts of Cerco do Porto, Falcão and Lagarteiro, URBiNAT scientific partners at Biopolis have developed a 3D immersive map that allows visitors to explore the area as it looks today, and to visualise what it will look like tomorrow – once the Healthy Corridor has been implemented.
Developed by researchers and students as part of the the URBiNAT project, this tool uses a system of layers to allow visitors to explore the intervention areas at different stages in the implementation of the Healthy Corridor. At present it is possible to visualise the current situation but soon it will be possible to view the main NBS interventions which will line the Healthy Corridor.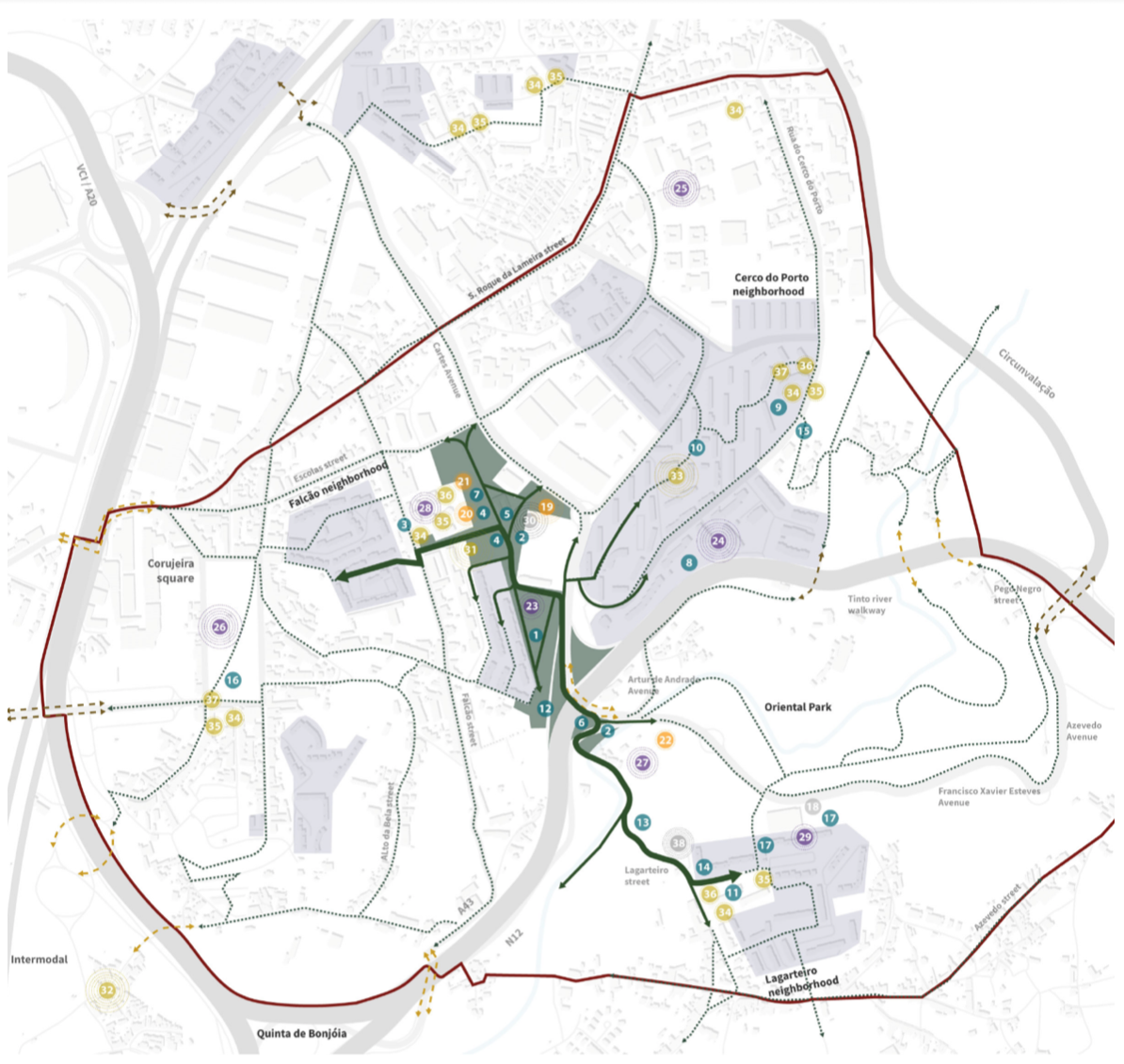 Course of Porto Healthy Corridor through districts of Cerco do Porto, Falcão and Lagarteiro
3D Mapping: An URBiNAT Digital Enabler
Within URBiNAT there is a basic understanding that the most efficient and environmentally sustainable form of urban planning is one that takes into account the views and aspirations of citizens where interventions are planned. This is why so much of our time and resources are dedicated to the co-planning and co-creation of Healthy Corridors in our intervention areas.
To aid in the process of co-planning and co-creation, URBiNAT teams across have been working on the development of Digital Enablers such as the Super Barrio App, and apps to support the design or commercial exploitation of Nature-Based Solutions (NBS).
In Porto urban planners and developers have joined forces to create a fully immersive 3D map of the intervention area. Currently the 3D online map, which has been used in several co-planning and co-creation processes, allows visitors to zoom in on specific areas where NBS will be implemented as part of the project.
It is possible to move around and get a vivid sense of what the area looks like now, i.e. before construction starts. In due course it will be possible to simulate future scenarios, helping planners to make more informed choices about the types of NBS and features of the Healthy Corridor.
Thanks to the tool planners can run various types of analyses in 3D. For example, they can see how a building casts shadows on its surroundings. Accordingly, they can decide where best to plant trees to mitigate heat in the area. 3D simulations can also help planners to understand how a future development will impact its surroundings.
The version in this article only shows the current situation but soon it will be possible to add layers to show what effect planned interventions will have on the neighbourhood.
Toggle between the "Floorplan" and "Little Planet" view. In Floorplan view mode, choose a red spot and zoom into the designated area. Click on arrows to move around and explore the area.
Monitoring and Evaluation of Porto Healthy Corridor
The 3D immersive map developed by Biopolis is also intended to serve URBiNAT teams during the monitoring and evaluation phase of the project. It will be possible to check real world implementations against plans, and monitor the way in which NBS are delivering benefits and services to the community as expected.
Formed in 2020 as a result of a merger between CIBIO, XXX and XXX, Biopolis has a vision to establish itself as international Centres of Excellence in Environmental Biology, Ecosystem Research and AgroBiodiversity, with the capacity for spreading excellence towards innovation in the areas of Environment, Biodiversity and Agriculture, and thereby contributing to socioeconomic development at the regional and national levels.
Biopolis is committed to advancing biological understanding from genes to ecosystems, and to use this knowledge to address pressing societal challenges in the areas of environment, biodiversity and agriculture through the development of world-leading research, the establishment of long-term strategic partnerships, the engagement of stakeholders, and the transfer and exploitation of research outputs.
URBiNAT Partners & Developers