Sábado convida a caminhadas saudáveis em Campanhã
Saturday invites to healthy walks in Campanhã
The following article was published on the site of Porto Municipality.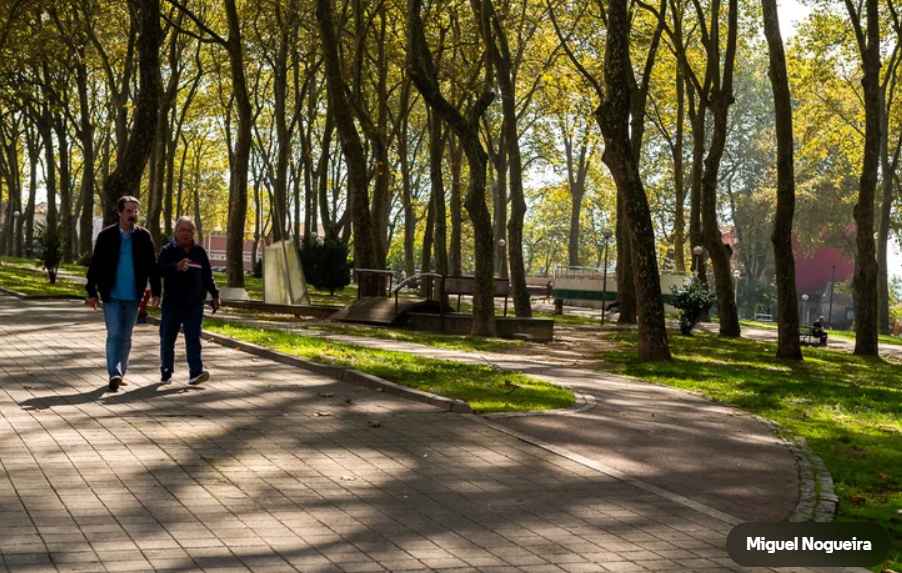 Neste sábado, 17 de dezembro, entre as 9 e as 13 horas, todos os interessados podem participar numa caminhada, a partir de três percursos pedonais à escolha.
Sob o lema "Unir Campanhã!" a partir do desporto saudável, os trajetos vão iniciar-se em três pontos de partida diferentes, nomeadamente – Jardim de São Lázaro, Praça da Corujeira e Praça da Rainha D. Amélia –, com término na Praça da Corujeira.
A caminhada decorre entre as 10 e as 12h30. No final, a Praça da Corujeira será ponto de encontro para um espetáculo que irá decorrer no mercado Campmarket, situado na associação Soutelo, na Praça da Corujeira. O espetáculo irá contar com a participação de artistas locais: música Rap – Ricardinho; DJs: lu1zzin, Simora e Zava; oficina de Grafitti. O programa de animação decorre entre as 11 e as 13h.
A iniciativa está enquadrada no programa europeu desenvolvido pela Divisão Municipal de Gestão Ambiental – Projeto URBiNAT, assente na dinamização de "corredores saudáveis", com a finalidade de promover o movimento de pessoas em espaços de circulação aprazíveis. É também objetivo associar as caminhadas com ioga e as rotas do património no âmbito do Urban Trekking Day, que se celebra em diversas cidades europeias sob o tema "Que Espetáculo de Caminhada".
"Unir Campanhã!" é uma parceria da URBiNAT, Câmara do Porto, Ágora – Cultura e Desporto E.M., Domus Social E.M., CIBIO – Centro de investigação de Biodiversidade e Recursos genéticos da Universidade do Porto, o GUDA (Atelier de Design, Lisboa), o CES (Centro de Estudos Sociais da Universidade de Coimbra), entre outros parceiros.
Leia o notícia completa no site da Câmara Municipal do Porto AQUI
This Saturday, December 17, between 9am and 1pm, anyone interested can take part in a walk, from three walking routes to choose from.
Under the slogan "Unir Campanhã!" through healthy sports, the paths will start at three different starting points, namely – Jardim de São Lázaro, Praça da Corujeira and Praça da Rainha D. Amélia -, ending at Praça da Corujeira.
The walk will take place between 10am and 12.30pm. At the end, the Praça da Corujeira will be the meeting point for a show which will take place at the Campmarket, situated in the Soutelo association, at the Praça da Corujeira. The show will include the participation of local artists: Rap music – Ricardinho; DJs: lu1zzin, Simora and Zava; graffiti workshop. The entertainment programme will take place between 11am and 1pm.
The initiative is part of the European programme developed by the Municipal Environmental Management Division – URBiNAT Project, based on the promotion of "healthy corridors", with the aim of promoting the movement of people in pleasant circulation spaces. It also aims to associate walking with yoga and heritage routes within the scope of Urban Trekking Day, which is celebrated in various European cities under the theme "What a Trekking Spectacle".
"Unir Campanhã!" is a partnership between URBiNAT, Porto City Hall, Ágora – Culture and Sports E.M., Domus Social E.M., CIBIO – Biodiversity and Genetic Resources Research Centre of the University of Porto, GUDA (Atelier de Design, Lisbon), CES (Centre for Social Studies, University of Coimbra), among other partners.
Read the full article on the site of the Porto Municipality HERE (Portuguese)