URBiNAT Consortium partners cover a wide range of expertise and experiences when it comes to the recognition of and respect for individual or group specificities, and the design of strategies to promote the engagement of all citizens.
We tend to assume that a cognitive or psychological shift is needed for deep seated inequalities to be overcome. Such a shift is necessary to promote respect for diversity, the acceptance of complexity, and improved conditions of participation. The focus, here, is on the problems and causes of discrimination and exclusion, and how they impact on the access to and the implementation of rights, aiming at combating racism, sexism, homophobia, Islamophobia, ableism, ageism, adult-centrism, among others.
Some URBiNAT partners, practitioners, and researchers have been involved in the elaboration of  guidelines relating to the project's theoretical and methodological foundations in regard to gender, older adults, and children. These are considered in an intersectional approach, based on the notion that specific modalities of subordination and discrimination act in an integrated manner.
Beyond stereotypes rooted in a specific population, vulnerabilities also contribute to silencing or legitimising various rights violations. This is particularly the case for children and older adults.
A diagnostic and deeper knowledge of perceptions, attitudes, and decisions towards children and older people is fundamental to understand how it is possible to engage these sections of the population in social decisions and projects. This is being researched by Beatriz Caitana (Centre for Social Studies of the University of Coimbra, CES-UC) and Margarida Pedroso de Lima (Faculty of Psychology and Educational Sciences of the University of Coimbra, FPCEUC).
The challenge is to build new frameworks for participation that highlight the role of such sections of the population as social actors, and to reposition them in the public space as agents of change. For example, children and older adults  need to be fully acknowledged for their nascent or enduring capacity for active participation in the decisions that affect their lives, including those related to the promotion of well-being and quality of life.
Some of these guidelines have contributed to framing URBiNAT's participatory processes and activities in general and are included in its deliverables and other outputs, e.g. for the development of nature-based solutions based on participatory and social and solidarity economy principles. We share some of them here and will continue to share more in other sections of the URBiNAT website.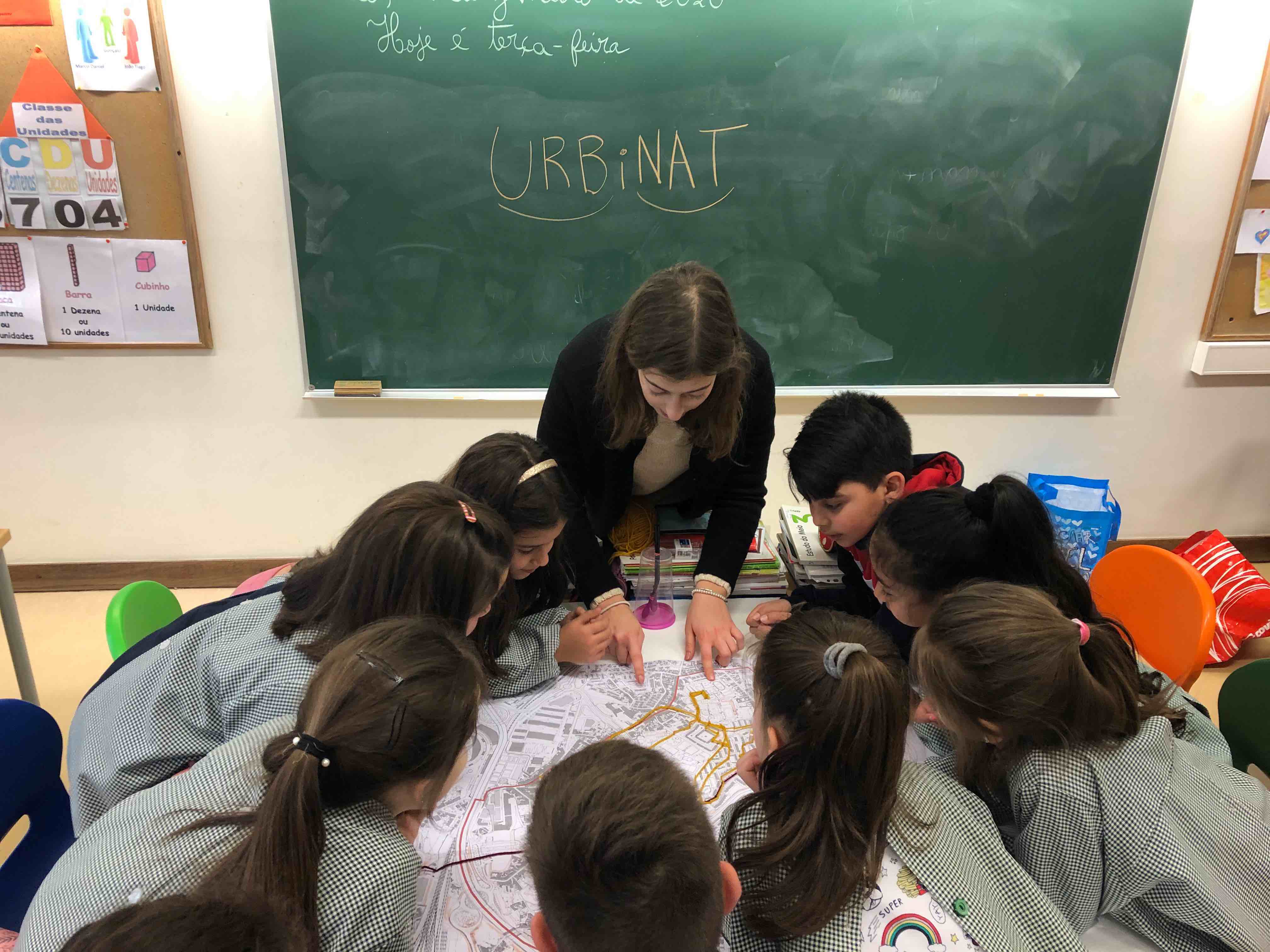 URBiNAT's workshop in Falcão primary school to start co-designing the healthy corridor with children in Campanhã, Porto (14th January 2020). Picture by Fernanda Curi.
Nature-based design of inclusive public spaces
As developed by Copenhagen-based urban planners and URBiNAT partner, SLA, (Mette Skjold, Nanna Maj Stubbe Østergaard, Alexandra Vindfeld Hansen), the nature-based design of inclusive public spaces welcomes various user groups and celebrates the diversity of the public sphere. It allows designers to create a common ground where it is possible to integrate various programs and functions into a coherent and inclusive landscape, appealing to all users regardless of gender, age, culture and social background, physical capabilities or social status.
Several aspects of this approach focus specifically on:
the social hierarchy where physically able young men are prioritised, as a result of activities in public spaces  tending traditionally to be based on monofunctional designs that exclude anyone unwilling or unable to participate;
the importance of creating fluid connections between observers and participants that makes it equally as acceptable to assume a passive role as an active role, and does not grant "ownership" of a space to a specific group. This is based on a flexible design that enables users to interpret and occupy spaces according to their specific needs. This allows groups, such as young girls and women, to enter public social arenas on equal terms with young boys and men;
the detailed design phase dependent on a well-executed and thorough participation process where all groups, including women and children, have been heard.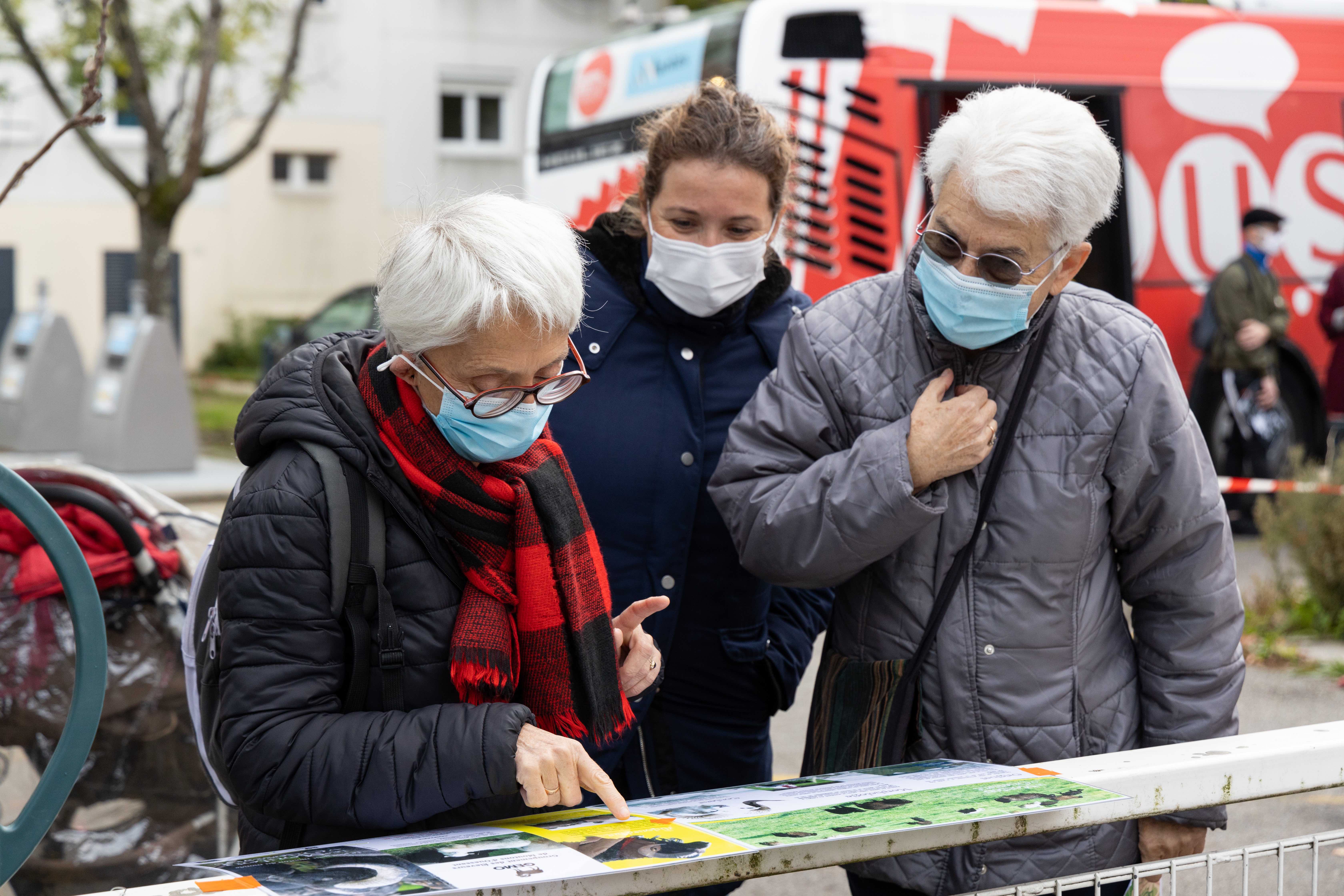 Walkthrough with inhabitants of the Nantes Nord district on the 14 th of October 2020. Picture by Nantes Métropole.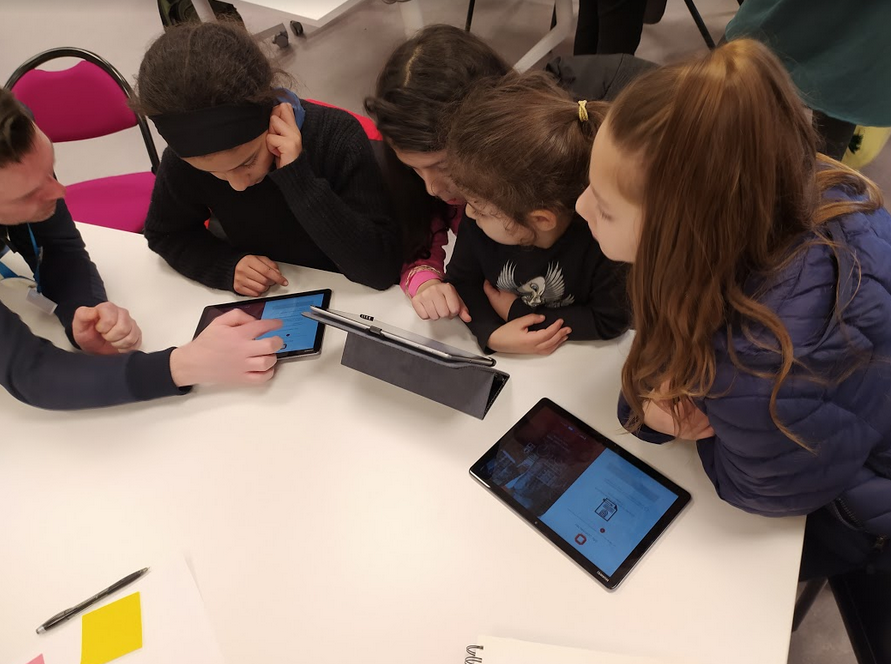 Testing Superbarrio app with the media youth group led by Accoord, the social cultural centre, and visitors of the media library on the 12th of February 2020. Picture by Mohamad Atab, IAAC.
The work of URBiNAT researcher Lia Antunes, University of Coimbra, considers how eco-feminist design is an intersectional gender perspective in the co-creation of innovative and inclusive public spaces, which takes into account the complex mesh of urban variables such as access to and permanence in the public space; mobility; violence against girls and women, and safety in the public space.
Lia Antunes has also been contributing to the development of plans for healthy corridors in URBiNAT front-runner cities (deliverable D4.2). Her work underlines the relevance of the participation of women living in adjacent neighborhoods, essential to understand and design the daily network and public spaces.
Therefore, URBiNAT's methodologies and integrated strategies have to take into account different urban experiences, namely of women, aiming at achieving a safe urban environment for all.
Additionally, as being highlighted by URBiNAT cities, namely in the case of Brussels, eco-feminist design allows for an explicit consideration of the concept of "care" in the design process of public space. "Care" can here be taken to include human and more-than-human (following Sarah Whatmore's definition), and contributes directly to the production of "healthy spaces", following the URBiNAT objectives, and responding to issues that were amplified by the COVID-19 crisis.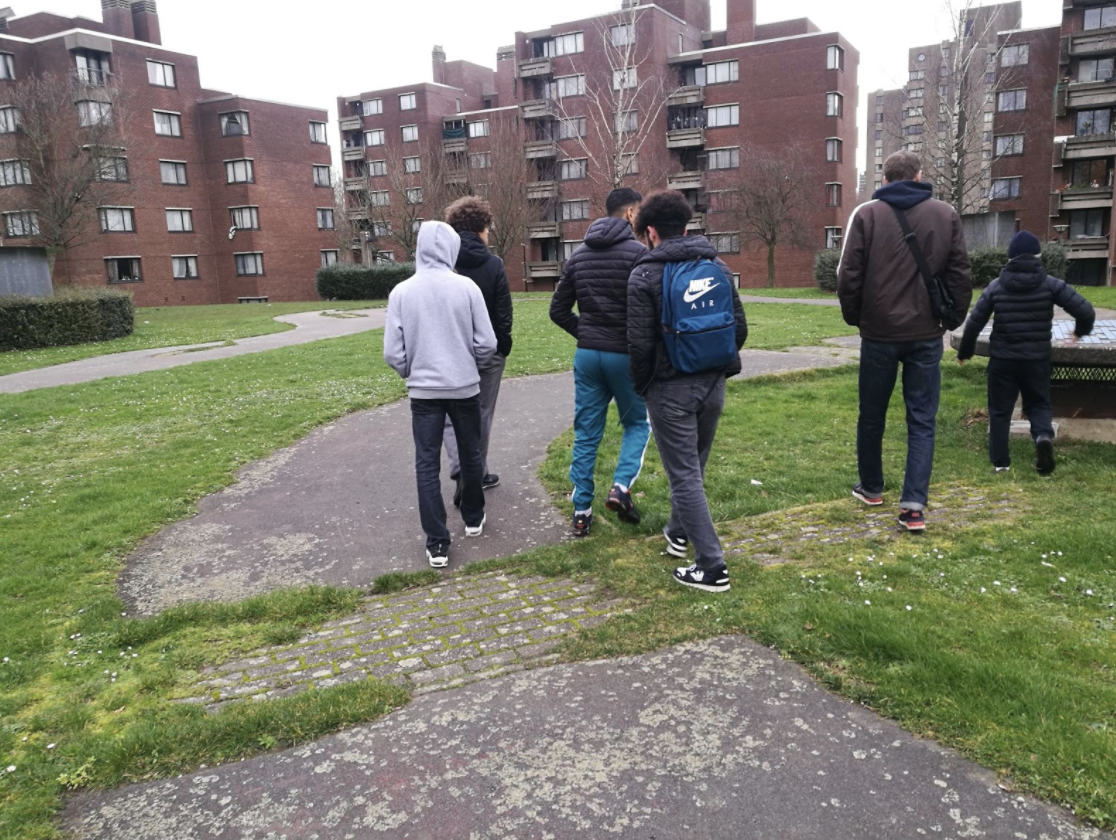 Workshop with youth from the Maison de Jeunes (Youth House), exploratory walk and participatory mapping activity, on the 19 February 2020. District of Avenue de Versailles and Val Maria in Neder-Over-Heembeek.Picture by Lauréline Cattelain.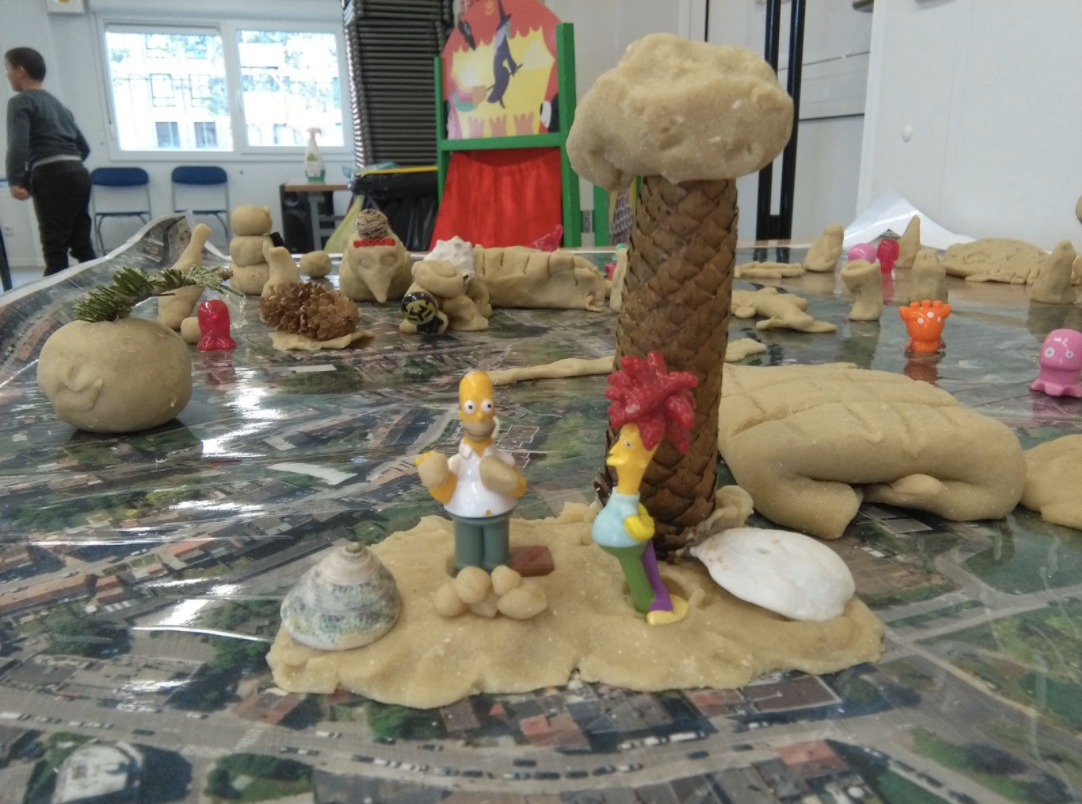 Workshop at the Maison des Enfants (House of Children) on the 17 February 2021: consisted in a collective poetry writing based on the prompt "Dans ma rue il y a…" ("In my street there is…") and the creation of elements to put in an imaginary streetscape (placed on a map of the neighbourhood by the children). District of Avenue de Versailles and Val Maria in Neder-Over-Heembeek.Picture by Laetitia Boon.
Gender considerations included in public budget
Fellow URBiNAT researcher, Begoña Dorronsoro, CES-UC, has explored in the context of URBiNAT's theoretical and methodological foundations how gender issues can be reflected in public budgets with approaches such as gender budgeting, seeking to change existing inequalities, allocating and guiding resources in the most appropriate and equitable way, and gender-sensitive budgets that go beyond the 
redistribution and reorientation of budgets according to gender inequalities and attempt to develop mechanisms and processes for gender mainstreaming in government policies and programs that will precisely condition budgets. In other words, the gender perspective is considered transversally and from the very phase of designing.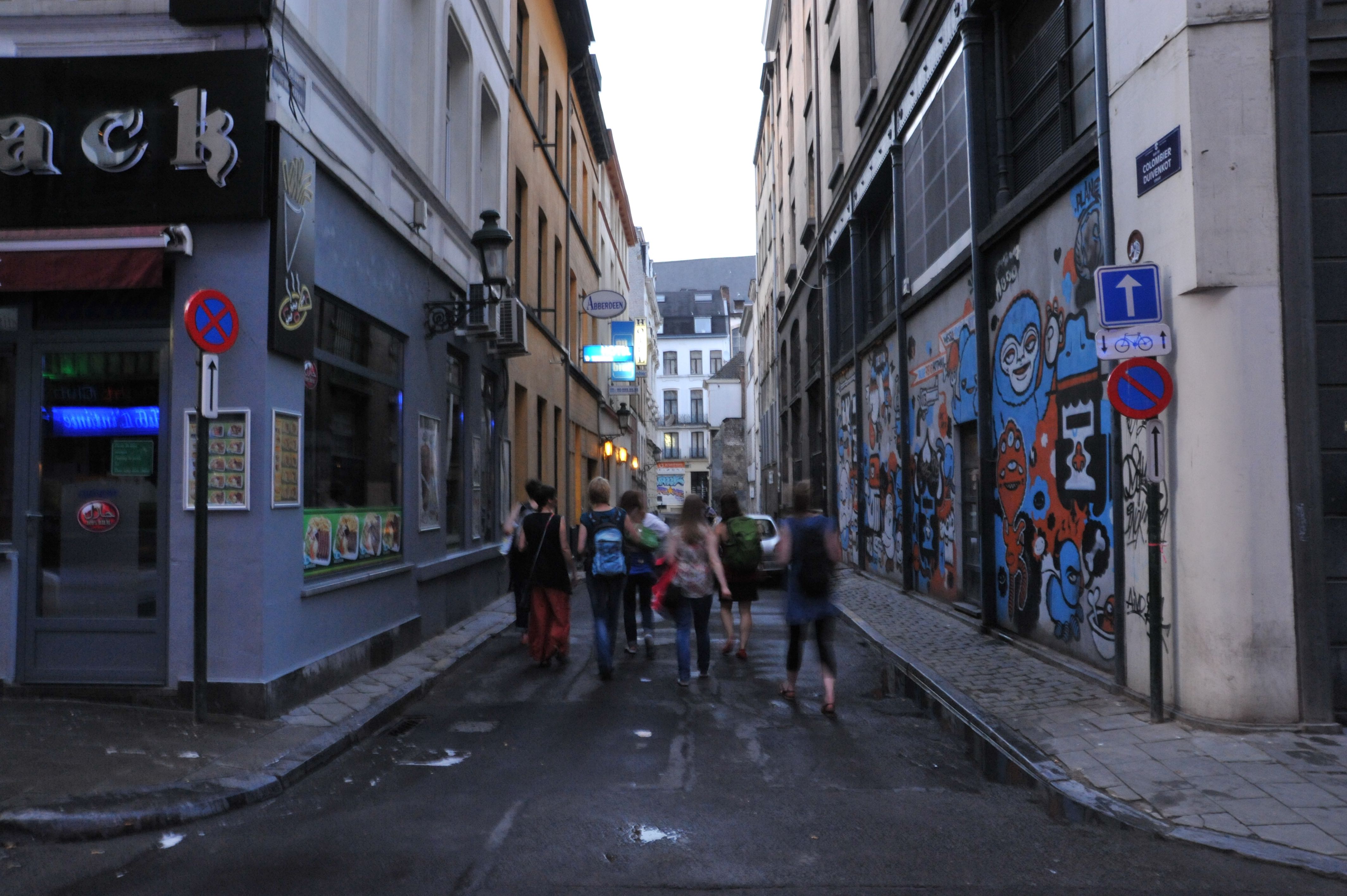 Exploratory walks to draw attention to the experiences and sensations of women in the city, organized by the association Garance in Brussels. Picture by Johanne Verbockhaven.
Inspiring tools from feminist and activist groups 
As part of the URBiNAT project Dorronsoro has also promoted the use of tools from feminist groups and activists such as mapping women's footprints (memories of successes, events, struggles, goals, carried out by women individually or collectively) and mapping forbidden cities (areas of the city that are not safe based on women's perception).  Women's footprint  may go beyond a focus on gender and  have an interesting potential to develop a kind of footprints map thought from and with people whose views are not normally taken into account. Sometimes there may also be individuals or facilitators helping in the formation of the collective memories of neighbours and neighbourhoods, aiming at making visible the ways that local cultural assets, stories, practices, relationships, memories, and rituals constitute places as meaningful locations. 
In the case of the map of "forbidden cities", feminist groups and women activists are trying to focus on the un-conviviality of urban spaces that have not been conceived and designed for people but rather for vehicles. These urban designs create a series of black dots perceived, especially by women, as places that are of a high physical/safety risk to them. As a way of making it more visible for public administrations and people in general, maps of forbidden cities for women begin to be collaboratively designed and implemented as a useful tool to promote positive change. 
These maps can be designed to highlight other vulnerable peoples and bodies at risk (not only women, but especially in the context of racialized and minoritized peoples and communities), where we may work on them through an intersectional approach that could be of interest for URBiNAT project.
Both mappings (women footprint and forbidden cities) are being considered in URBiNAT in combination with the participatory nature-based solution "cultural mapping", as developed with Nancy Duxbury (CES-UC). Indeed, as being discussed with URBiNAT cities, mapping practices and everyday uses of places allows cities to identify particular "place-making" practices that are integral to understanding ways of being in public space in the different Living Labs. Expliciting these footprints, forbidden spaces, and uses/practices within the framework of the cultural mapping protocol will help to guide the development of a gender-focused co-design strategy. 
For example, in Brussels, this sensitivity to practices and uses of public space is favoured by an ethnographic approach that includes a spatial focus, so as to better support the co-creation of nature-based solutions with all users of public space.  Feminist tools such as exploratory walks – first tested and made popular in Brussels by the association Garance – will be particularly mobilised to explore experiences and uses of space. Though focused on in/security, this method also provides space to explore the stories and memories of place, in turn feeding back into the cultural mapping protocol.
More on human rights and gender with Siena: women, older adults and children
In the first semester of 2021, the Municipality of Siena organized a series of webinars dedicated to the theme of sustainability. An initiative born in collaboration with the University of Siena and with the support of a network of local and international partners who particularly addressed the specificities of women, older adults and children.
At a time when it is difficult to meet citizens in person, these meetings were aimed first of all to open a dialogue, but also to offer new points of view for building a future based on innovation that starts from the nature and strength of communities.
The program included regular live stream appointments divided into 3 macro themes:
– Cities – experiences of urban regeneration and land management.
– Citizens – participation and co-planning starting from the needs of the most vulnerable.
– The tools – new sustainability tools that involve citizens, public administration and companies.
Cities through a gender lens / Lo sguardo di genere sulla città
A city fit for older adults / Una città a misura di anziano
Child and Adolescent Friendly Cities / Le città amiche dei bambini e degli adolescenti
The present contents about URBiNAT's approach to human rights and gender take into account contributions to deliverables D1.2 (Theoretical and Methodological Foundations of the Project) and D1.5 (Compilation and analysis of human rights and gender issues), namely of: Alexandra Vindfeld Hansen, Beatriz Caitana, Begoña Dorrsonsoro, Gaia Giuliani, Isabel Ferreira, Iuri Bruni, Lia Antunes, Lúcia Fernandes, Margarida Pedroso de Lima, Marie Sorivelle, Mette Skjold, Nancy Duxbury, Nanna Maj Stubbe Østergaard, Nathalie Nunes, Sandra Carvalho, Sassia Lettoun, Sheila Holz. All published resources of the URBiNAT project can be accessed via the Resources page. 
The elaboration of this blog post is based on the systematization and reviews of Nathalie Nunes, Laetitia Boon, Tom MacKenzie and Lúcia Fernandes.
Additional references: Whatmore, S. (2006). Materialist returns: practising cultural geography in and for a more-than-human world. Cultural geographies, 13(4), 600-609.
Welcome to raise comments, suggestions and questions here. We are curious to learn about your views and experiences.