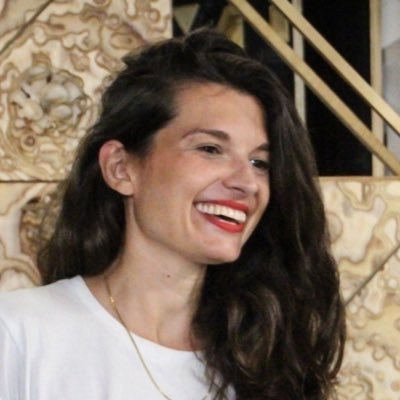 Chiara Farinea
Urban Planner, Architect Institute for Advanced Architecture of Catalonia, Barcelona
Chiara Farinea is an Italian architect and urban planner. She studied at ETSAB (Barcelona) for a year as part of the Erasmus Programme. She has been a member of the Association of Architects of Genoa for ten years. She is currently Head of European Projects at IAAC and associate professor of Urban Planning at the School of Architecture in Genoa. She was one of the founding partners of Gr.IN Lab art group, which exhibited installations in 2015 at the Arsenale in Venice and in Turin for the Italia-China Art Biennale. She also worked as project manager at D'Appolonia (Genoa), where she developed international cooperation projects, smart cities initiatives and EU-funded research projects on sustainable development, as well as coordinating the D'Appolonia team that worked with Studio 015 Paola Viganò to prepare the winning project for Progetto Flaminio–Rome City of Science International Competition.
[Academic Paper] Enhancing the integration of Nature-Based Solutions in cities through digital technologies
During the last decades a growing awareness about the effects of pollution on our planet and its inhabitants has led to a demand for a new environmental sensitivity in urban planning. Nature-Based Solutions have the potential to enhance the liveability and prosperity of cities, providing ecosystems services (Millennium Ecosystems Assessment, 2005). The paper explores pathways towards a progressive knowledge construction to shape a future in which NBS are largely integrated in our buildings and public space thanks to the use of digital technologies and design, transforming our cities into healthy, productive and collaborative environments.

Download
D3.3: Portfolio of Methods, Tools and Content - Forming Digital Enablers of NBS
This deliverable has been framed for the objective of collecting and structuring information as a basis for enhanced understanding of how to apply so-called "digital enablers" to support the co-creation process around NBS and healthy corridors in URBiNAT cities, and to draw wider lessons thereof. Despite the opportunities offered by digitalisation, as observed in ambitious plans for the development of smart cities, urban planners continue to struggle in addressing serious outstanding issues, including fragmentation and lack of engagement by disadvantaged groups. Although the application of Information and Communication Technologies (ICT) will not by itself resolve these issues, the constructive application of digital enablers can be greatly helpful. Building on the experience at hand and linking to the evolving experience of URBiNAT cities, this report sets out to cast new light on ways forward in this respect. The audience includes members of the URBiNAT project along with others interested in the project and lessons on how to address the issues at hand.
Download
[NBS Card] Urban Mushroom Farm
The urban mushroom farm is a modular system developed to grow edible mushrooms in the urban environment, producing both food and construction materials. The solution is composed by modules that are designed with two main aims: allocating the substrate needed to grow mushrooms and shaping the construction material that can be obtained from it.
The surface of the modules is designed according to the climatic conditions of the installation site (e.g. solar radiation and humidity) to provide the optimal environment for the substrate to grow the mushrooms. With the aim of being as sustainable as possible, the modules can be also fabricated with ecological or recycled materials.
In addition to producing food and construction material, the solution acts as a demonstrator, creating 'culture of caring' for locally produced food and awareness about the potentials of mushroom farming in cities.
Download
[PDF Download] Mobile Vegetable Garden
Mobile vegetable garden is a modular and moveable solution for growing food and plants. It can be assembled and moved by users in order to customize open public and private spaces according to their desires. The solution can be complemented with an augmented reality app that citizens can use to get information about the plants species and that can support awareness rising and educational activities.
Download
[PDF Download] Multiuse Wood Structure
The wood structure is a multi-use modular pavilion prepared to support several activities in the public space, such as solidarity markets, illuminated storage rooms, winter gardens or just places to hangout. From simple architectonic ideas and the production of a low-tech constructive module, this rhythmic porticoed construction is adaptable to the wills of the local community and the actual contextual features. These strategical located, flexible and illuminated structures that can help densify low defined vacant public spaces.
Throughout these simple and co-implemented constructions, it can be achieved a sophisticated and porous process of uses and activities with low footprint.

Download