CampMarket - An URBiNAT Social & Solidarity Economy NBS
SÁBADO 27 NOVEMBRO 2021 DAS 12:00 Às 18:00 UTC+01
CampMarket é um mercado informal na freguesia de Campanhã que se realiza nos últimos sábados de cada mês, entre as 11h00 e as 17h00, no Lagartixa
Uma iniciativa que pretende criar oportunidades de reflexão sobre os hábitos de consumo e o seu impacto na economia da comunidade.
Neste mercado serão favorecidas as trocas como instrumento de valorização do trabalho, do saber, da cooperação e da criatividade local, onde se estimula a solidariedade em detrimento da busca linear do lucro e onde a criação de riqueza passa por estimular a produção local, de modo a beneficiar diretamente este território e os/as seus/suas residentes. Além das trocas, será ainda possível vender produtos agrícolas biologicamente cultivados e artesanato, diretamente apresentados pelos respetivos produtores/as e artesãos/ãs.
Será especialmente criado um espaço para as trocas realizadas pelas crianças, onde os brinquedos podem ser trocados entre crianças, favorecendo uma reflexão sobre o novo e o usado, a inutilidade do brinquedo parado e o potencial de pertencer a uma rede de reutilização contínua dos brinquedos.
Se pretender participar com trocas ou como produtor/a artesão/ã, pode realizar a sua inscrição AQUI
__
O CampMarket é uma iniciativa coletiva criada pelo Grupo de Trabalho designado "GT Economia Social e Práticas Solidárias" do projeto Urbinat, com o suporte técnico e logístico da equipa do Contrato Local de Desenvolvimento Social (CLDS) REDES 4g | Reativar e Empoderar Dinâmicas e Espaços Sociais.
Facebook LINK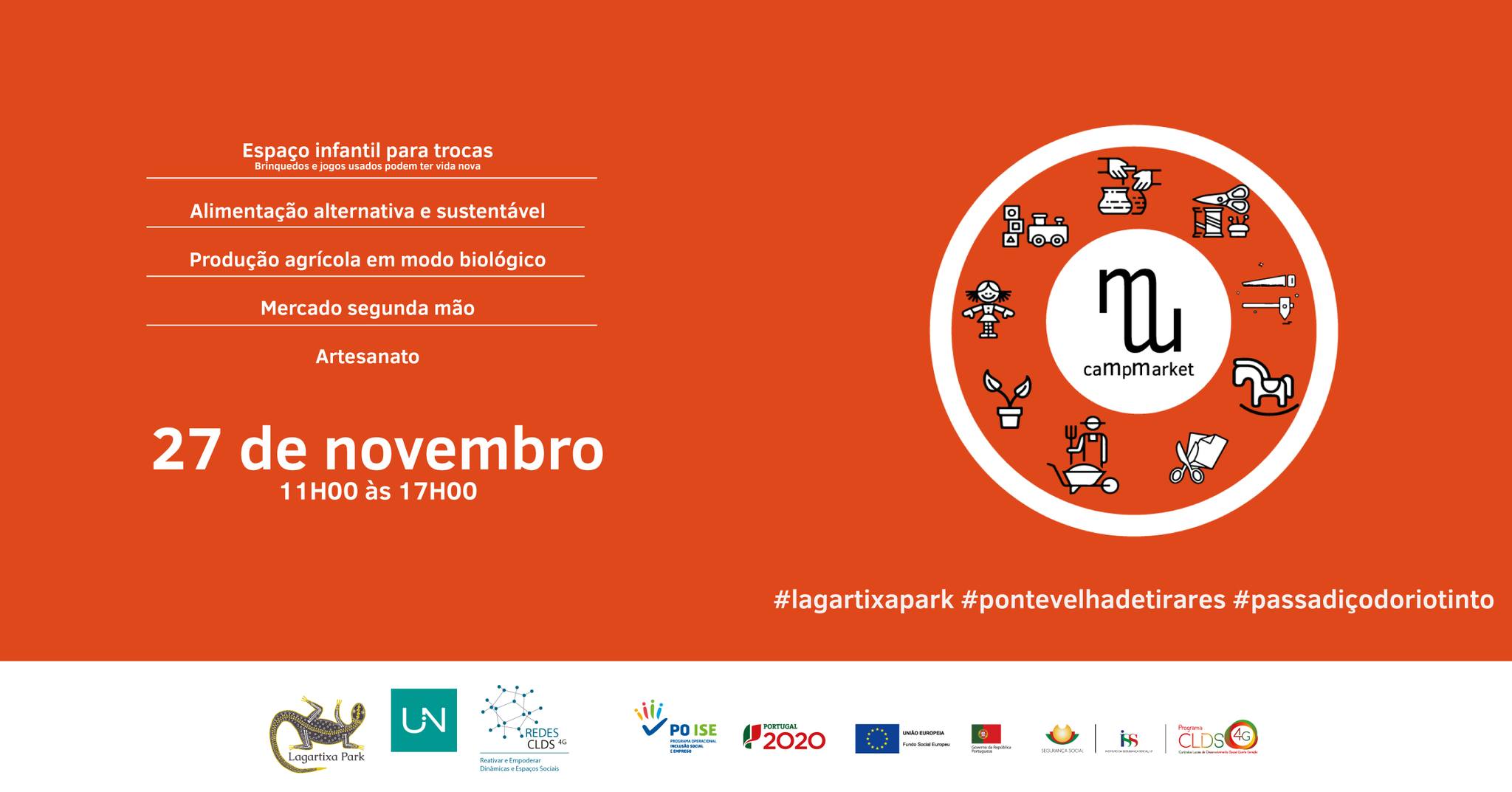 SATURDAY 27 NOVEMBER 2021 FROM 12:00 TO 18:00 UTC+01
CampMarket is an informal market in the parish of Campanhã that takes place on the last Saturdays of every month, between 11am and 5pm, in Lagartixa
An initiative that intends to create opportunities for reflection on the consumption habits and their impact on the community's economy.
In this market, exchanges will be favoured as an instrument for valuing work, knowledge, cooperation and local creativity, where solidarity is stimulated to the detriment of the linear search for profit and where the creation of wealth involves stimulating local production, in order to directly benefit this territory and its residents. In addition to the exchanges, it will also be possible to sell organically grown agricultural products and handicrafts, directly presented by the respective producers and artisans.
A special space will be created for children's exchanges, where toys can be exchanged between children, encouraging reflection on new and second-hand toys, the uselessness of toys that are not used, and the potential for belonging to a network of continuous reuse of toys.
If you want to participate with exchanges or as a producer/craftsman, you can register HERE
__
The CampMarket is a collective initiative created by the Working Group called "WG Social Economy and Solidarity Practices" of the Urbinat project, with the technical and logistical support of the team of the Local Contract of Social Development (CLDS) REDES 4g | Reactivate and Empower Social Dynamics and Spaces.
Facebook LINK
[NBS Card] Solidarity Markets and Fairs
In these spaces of conviviality products, knowledge and services manufactured by the own participants are exchanged using or not social currencies as intermediary mechanisms. These markets intensify the social dynamics through valuing the knowledge diversity from the community and creating a circuit of integration and economic autonomy. The markets/fairs contribute to a broader movement focused on rediscovery of the local and popular economy. It innovates by combining three distinct elements in the same space in society: the social ties of proximity, solidarity consumption and the use / occupation of public spaces. Into the markets we find the figure of the "prosumer" who refers to the person who is both consumer and producer. For the continued participation of community members, the markets can be implemented through a local residents' committee and through activities beyond market spaces.
Download