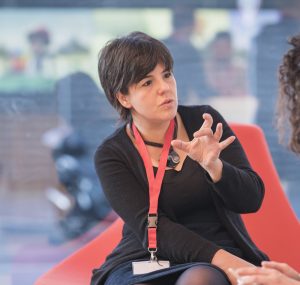 Siena
Mariapiera Forgione
Local URBiNAT Coordinator, Communication Consultant, Comune di Siena
Degree in Communication Sciences. Marketing and communication consultant, project planning and fundraising specialist in pubblic administration and non profit associations.
Main Research Focus / Area of Expertise
Communication, analysis of participatory processes, fundraising
[PDF Download] Walkthrough
Walkthrough is a method of analysis that combines observation in situ with an interview simultaneously. It creates an accepting environment that puts a small number of participants at ease allowing then to thoughtfully answer questions in their own words and add meaning to their answers. It also identifies the negative and positive aspects of the analyzed environments.
It allows identifying the perception of the residents in the place where they live. In this technique, they are invited to appropriate the neighbourhood and evaluate the territory, its inadequacies, surplus or missing furniture, barriers and potentialities, among other important elements.
Walkthrough is a participatory method and solution (NBS) that creates awareness while participants walk and discuss what they feel, see and know.
Download
[PDF Download] Photovoice
Photovoice NBS uses photos to make people aware of a reality or topic, as nature-based solutions or inclusive urban regeneration. It's is a human-centered solution to engage citizens in the transformation of their territory. It's also a tool to collect data related with people's memories and perceptions. Photos allows a co- construction of the reality through the interaction of 3 elements: the researcher, the photos and the interviewee. It is a technique (called photo voice) that works well to engage children and young people in research, but also adults with advanced age that want to share their life stories. The photo voice aims to give voice, through photography, to those who are usually silenced or not involved in urban planning process.
It is also known as "participatory photography" and it has a correlation with "photo elicitation".
Download
[NBS Card] Cultural Mapping
Methodological tool in participatory planning and community development, it makes visible the ways that local cultural assets, stories, practices, relationships, memories, and rituals constitute places as meaningful locations.
Process of collecting, recording, analyzing and synthesizing information to describe the cultural resources, networks, links and patterns of usage of a given community or group, also strategically used to bring stakeholders into conversation.
Flexible according to the objectives, purpose and what one wants to map. E.g. facilities, organizations, stories of places, historical sites, for the past (memories and landmarks) or for the future (aspirational mapping), for the community or for outsiders.
It can be combined with approaches such as footprint of women (gender), forbidden cities (safety), asset-based community development (community assets), arts.
Download