EVENTO ADIADO DEVIDO A CONDIÇÕES METEOROLÓGICAS DESFAVORÁVEIS. NOVA DATA A SER ANUNCIADA EM BREVE‼️
EVENT POSTPONED DUE DU UNFAVOURABLE WEATHER CONDITIONS. NEW DATE TO BE ANNOUNCED SOON ‼️
Porto Urban Trekking 2022
?? A caminhada UNIR CAMPANHÃ é uma coorganização do projeto URBiNAT e do projeto REDES com diversos cidadãos e associações locais.
Pretende-se neste dia associar as caminhadas com ioga e as rotas do património que realizamos mensalmente com o URBAN TREKKING DAY que se celebra em diversas cidades europeias sob o tema "Que Espetáculo de Caminhada".
Assim iremos sair de 3 espaços públicos emblemáticos do Porto – Praça do Marquês, Jardim de S. Lázaro e Praça da Corujeira – e percorrer diversas ruas do Porto onde iremos descobrir valores patrimoniais da cidade, como os conjuntos de habitação SAAL Antas, Falcão, Cerco do Porto e Lagarteiro, os jardins de S. Lázaro, do parque de São Roque e do Passadiço do rio Tinto, ou instituições da cidade como o Mira Forum ou a TODOS.
No final iremos assistir a um espetáculo que irá decorrer no mercado CAMPMARKET, situado na associação Lagartixa Park, junto à ponte antiga de Tirares e ao Passadiço do Rio Tinto.
O espetáculo irá contar com a participação de artistas locais: música Rap – Ricardinho; DJs: lu1zzin, Simora e Zava; oficina de Grafitti.
A caminhada é gratuita mas é conveniente a inscrição devido ao número limitado de 25 pessoas por percurso.
As caminhadas têm início às 10.00. Solicita-se que os participantes estejam nos pontos de encontro entre as 9.00 e as 10.00.
Os pontos de encontro estão assinalados com um toldo e um cartaz UNIR CAMPANHÃ.
Recomenda-se a utilização de um calçado confortável e casaco para chuva, se necessário. Cada percurso terá dois guias.
?? The UNIR CAMPANHÃ trekking is a co-organization of the URBiNAT project and the REDES project with the participation of citizens and local associations.
The aim of the day is to associate urban treks with yoga and the heritage routes that we take as part of the URBAN TREKKING DAY which is celebrated in several European cities under the theme "Che Spettacolo di Treeking".
We will depart from 3 emblematic public spaces of Porto – Praça do Marquês, Jardim de S. Lázaro and Praça da Corujeira – and walk through several streets of Porto where we will discover heritage values of the city, such as the SAAL ANTAS housing.
The trek will go through the URBiNAT intervention area of Falcão, Cerco of Porto and Lagarteiro, the gardens of S. Lázaro, the park of São Roque and the Passadiço do rio Tinto, or institutions in the city such as the Mira Forum.
At the end, we will attend a show that will take place at the CAMPMARKET, located in the Lagartixa Park association, next to the old bridge of Tirares and the Rio Tinto Walkway.
The show will feature the participation of local artists: Rap music – Ricardinho; DJs: lu1zzin, Simora and Zava; graffiti workshop.
The walk is free of charge but registration is required due to the limited number of 25 people per route.
The walks start at 10am. Participants are requested to be at the meeting points between 9am and 10am.
The meeting points are marked with an awning and a sign UNIR CAMPANHÃ.
It is recommended to wear comfortable shoes and a rain jacket if necessary. Each route will have two guides.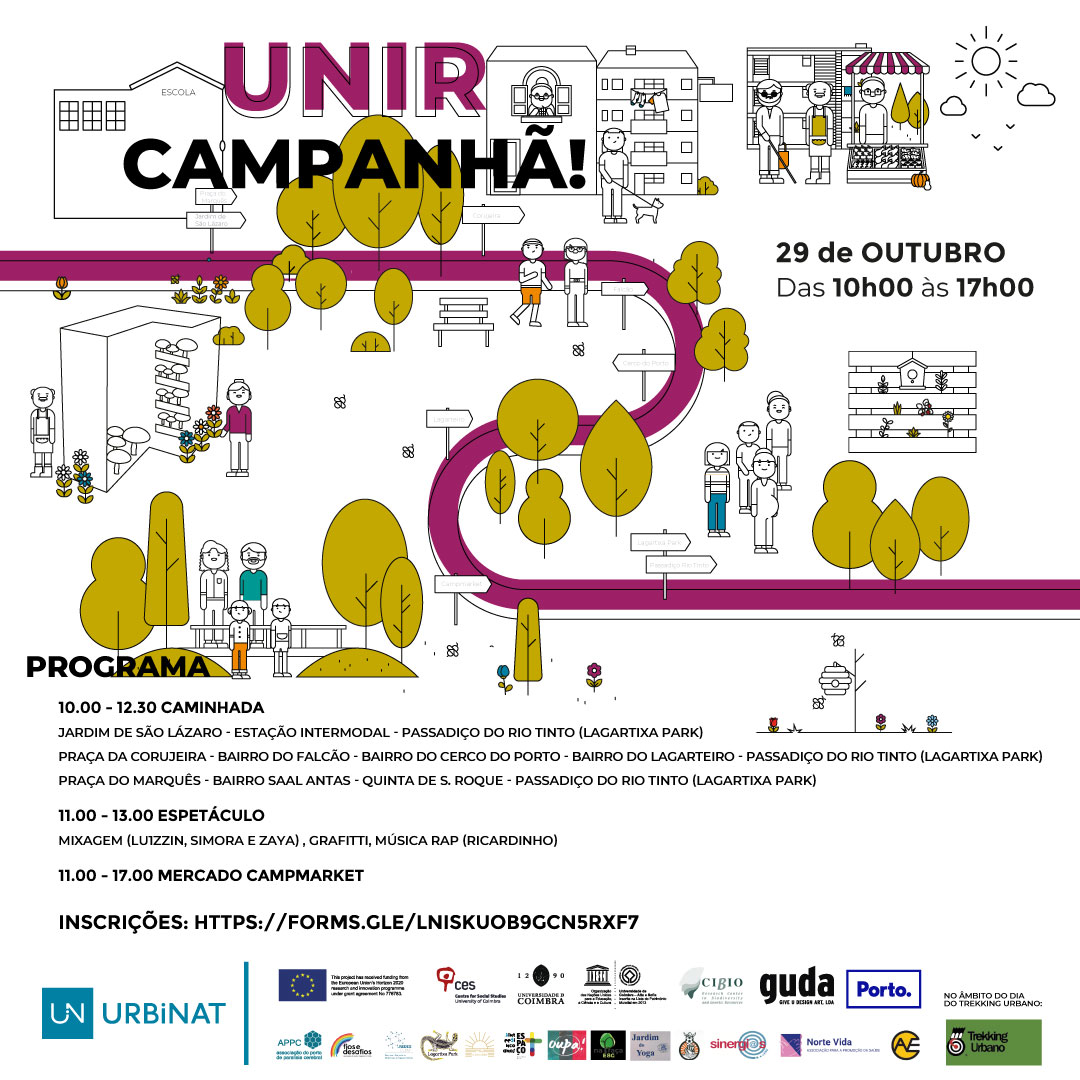 10.00 – 12.30 Caminhada
1 – Jardim de São Lázaro – Estação Intermodal – Passadiço do Rio Tinto (Lagartixa Park). Guia – Alberto Rocha (Jardim do Yoga) e Luís Monteiro (CMP)
2 – Praça da Corujeira – Bairro do Falcão – Bairro do Cerco do Porto – Bairro do Lagarteiro – Passadiço do Rio Tinto (Lagartixa Park). Guia – André Sousa (Projeto REDES) + Ricardinho (OUPA)
3 – Praça do Marquês – Bairro SAAL Antas – Quinta de S. Roque – Passadiço do Rio Tinto (Lagartixa Park). Guia – Gonçalo Canto Moniz (CES) + Vitório Leite (UC)
11.00 – 13.00 Espetáculo – Mixagem, Grafitti, Hip-hop (artistas de Campanhã)
11.00 – 17.00 Mercado CAMPMARKET