URBiNAT in discussion with sister H2020 projects on co-creation of NBS and pathways to a Nature-Based Economy
URBiNAT partners took part in the IUCN Congress in Marseille (7 -10 September 2021). Gonçalo Canto-Moniz (University of Coimbra – CES) and Americo Mateus (GUDA) co-chaired an interactive session on co-creation methodologies in connection with NBS, and took part in a discussion with sister H2020 projects on pathways from Nature-Based Solutions to a Nature-Based Economy.
Some of the barriers to the uptake of NBS were discussed in a session entitled 'Lessons learnt from co-creation of NbS in Living Labs' . Bringing decision makers unfamiliar with the terminology on board is still a major hurdle. A lot still needs to be done to raise awareness about the environmental, economic and societal benefits of NBS. One of the ways to overcome these barriers is to involve the different stakeholders in co-creation processes involving constant dialogue, consideration for cultural differences and adapting methods to suit different contexts.
The EU NBS Task Force 6: Co-creation & Governance session had Israa Mahmoud from Politecnico de Milan, working on CleverCities , Goncalo Canto Moniz, coordinator of URBiNAT and Americo Mateus,  and Gerd Lupp, from Technical University of Munich working on Phusicos, dscussing upcoming joint guidelines to help improve integration of co-creation of NbS into local governance. Involving stakeholders in NbS planning, design and implementation stages ensures that solutions are tailored to actual needs.
This IUCN Congress closed with the publication of the Marseille Manifesto which aims to capture some of the key messages that are globally and currently relevant and which relate to the Congress proceedings, including many notable and important commitments and announcements emerging from Congress events. The focus is on the post-Covid recovery, the biodiversity crisis and climate emergency.
URBiNAT is happy to note that the Manifesto contains many commitments and calls to action that resonate with the fundamental concepts, aims and concepts of our project.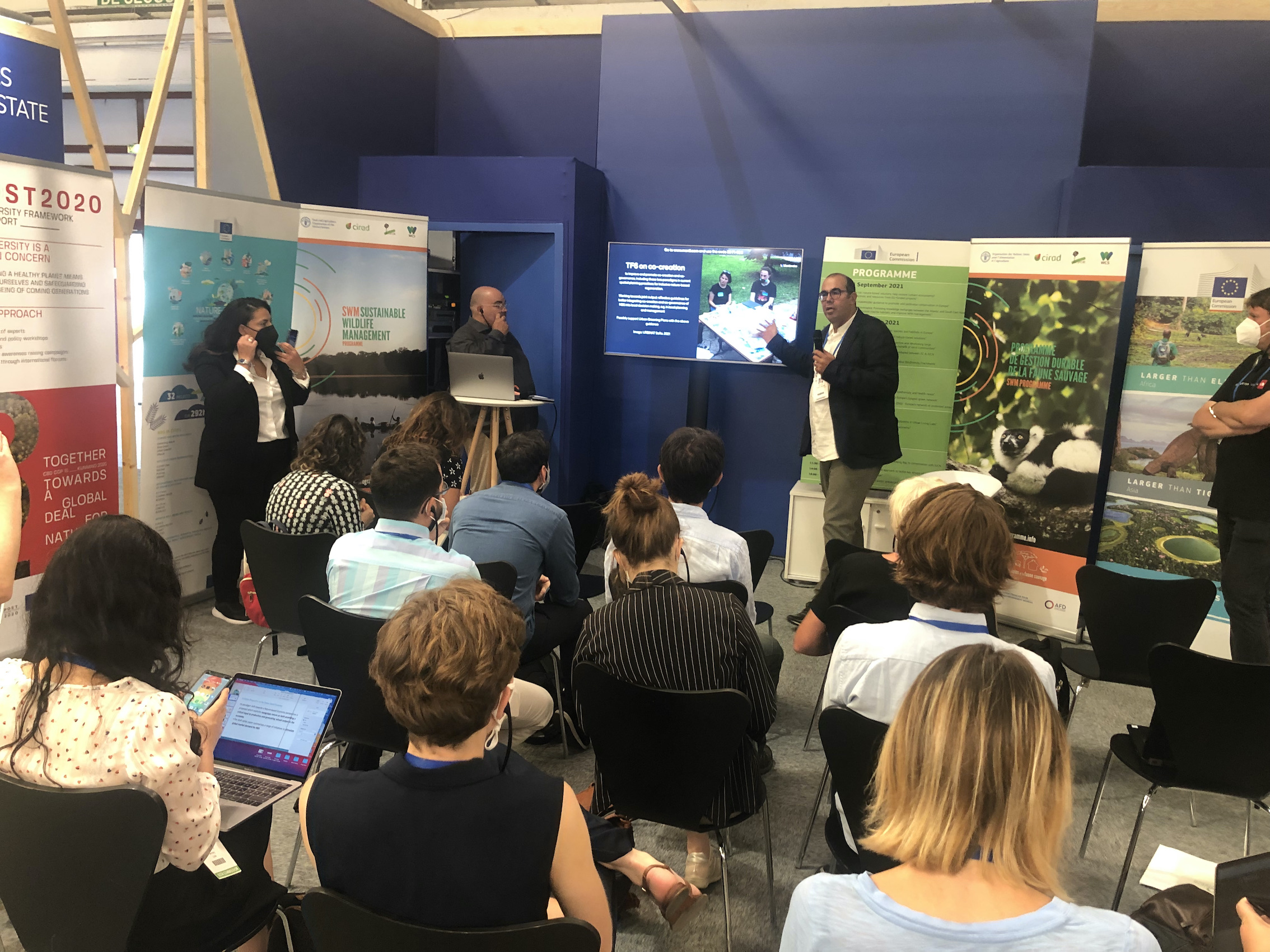 Key takeaways from the Marseille Manifesto
Promoting investments in nature
Governments are now committed to stimulate economies. This generates a unique opportunity to create sustainable jobs, accelerate the just transition to a low carbon and sustainable blue economy, respect and engage communities, especially indigenous people and youth, end harmful investments and redirect them towards those that contribute to nature. IUCN urges governments to implement a "nature-based recovery". To do so will provide public investments, and encourage the private sector and civil society to invest. At least 10% of the total global recovery investments should protect and restore nature, and the remainder must do no additional harm.
Transitioning to a nature-positive economy
More than half of the global economy is linked to nature. While using nature-based solutions to help countries recover is strongly supported, we must look to the long-term. IUCN urges governments to reform financial, economic, and regulatory systems and end subsidies that harm nature. Adopting a circular economy approach could help preserve critically-important global commons such as the ocean. Furthermore, IUCN implores corporations and other investors to screen new investments for their impacts and dependencies on nature in a scientifically rigorous manner and take appropriate action.
Prioritising investments in nature that advance social justice and inclusion
New investments, though well-intentioned, can exacerbate existing inequalities if not designed carefully. Particular efforts must be made to include marginalised groups, and importantly, realise the agency of women, youth, local communities and indigenous peoples in investments in nature-based solutions. IUCN encourages governments and the private sector to adopt the IUCN Global Standard for Nature-based Solutions, and ensure that investments benefit nature, are sustainable and contribute to social and economic equity. The United Nations is requested to show leadership by recognising and implementing the right to a safe, clean, healthy and sustainable environment.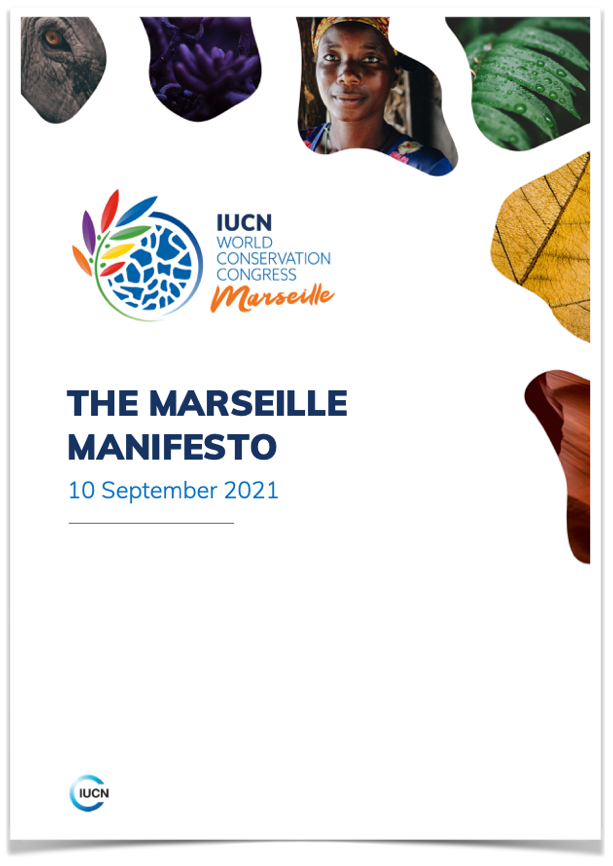 IUCN Marseille Manifesto. September 2021
IUCN calls on governments to implement NBS while reducing fossil-fuel emissions
Nature-based solutions could provide around 30% of the mitigation required by 2030 while helping to protect vulnerable communities and countries from the impacts of climate change. These solutions also contribute to conserving biodiversity and supporting jobs, livelihoods and health. The ocean sequesters carbon but is increasingly damaged by warming, deoxygenation, and acidification from greenhouse gas pollution. IUCN encourages governments to integrate nature-based solutions as part of their commitments under the Paris Agreement, and to apply the IUCN Global Standard for Nature-based Solutions during implementation. IUCN also urges all non-state actors to include nature-based solutions in their commitments under the UNFCCC's Race to Zero and Race to Resilience initiatives.
Optimising the global response requires action from all, and for all to be able to act: IUCN, through its Members and partners, commits to supporting new coalitions to effectively and responsibly implement nature-based solutions that address the climate-biodiversity crisis. Furthermore, acknowledging initiatives such as the Glasgow Finance Alliance for Net-Zero, the Congress stresses the fundamental importance of mobilising climate- related finance from all sources. These must be sufficient to achieve the ambition of low greenhouse gas emissions and climate-resilient development as reflected in the Paris Agreement.
The UNFCCC High Level Champions for Climate Action and IUCN are establishing a partnership to enhance and accelerate global and regional net-zero initiatives by non-State actors that systematically integrates nature and nature-based solutions and deliver on the Race to Zero, Race to Resilience, mobilising climate finance while supporting the post 2020 biodiversity agenda.
At World Conservation Congress, the host country France committed to:
Include financial risks linked to the loss of biodiversity in economic and financial analyses and strengtheninvestments favourable to biodiversity, in particular, nature-based solutions to support the ecological transition in agriculture, forests, soils and carbon sinks.