On 2, 4 & 7 June: URBiNAT is hosting an Online Seminar Series  on the role of the  Solidarity Economy to enhance the impact of NBS being implemented as part of urban regeneration programmes.
Discussions will look at how the NBS concept can be expanded to take into account the social and solidarity economy NBS, and recognize the importance of the solidarity economy in times of crises and uncertainty.   
The conceptual foundation of the URBiNAT is based on active involvement of citizens in the development and implementation of Nature-based Solutions. Through participatory processes, the co-creation of NBS have a beneficial impact on the environment but also on the well-being and economic situation of citizens.
The solidarity economy, in its various forms, is viewed as a means to reduce economic inequalities. Solutions include solidarity markets, social currencies, short food supply chains, and solidarity purchase groups. 
The Seminar Series will take place over three days, with debates and presentations made by URBiNAT cities:
Part 1: Urban public space: commons, justice and social reproduction
Part 2: The socio-economy practices for neighbourhoods revitalisation
Part 3: The sustainability of nature-based solutions and solidarity economy
The Seminar will involve partners and cities working on socio-economic issues to share knowledge and experience; gather experts from university, research centres, international network and URBiNAT scientific commission; also, the sisters' projects to dialogue with us, namely sharing their best practices in the solidarity economy dimensions. After the Seminar, the URBiNAT intends to organize a special edition of the CES context edition, periodical publication from CES to disseminate the reflection and debate results. 
URBiNAT recognizes the social and solidarity economy as an opportunity to build a different urban space and to analyse its complexity. In fact, the project assumes it as one of the dimensions for the implementation of nature-based solutions (NBS). The functionality of public spaces can expand with solidarity economy initiatives, diversifying the way citizens use the urban spaces. SE reveals a strong territoriality and connection to physical space – it may range from individual self-provisioning and informal small-scale economic circuits localized and operating within a limited territorial scope to networking on a larger area (region or national level). In some cases, territoriality is linked to culture, thus enabling community culture to develop territorial identity circuits. 
The Online Seminar Series is organized in a multi-stakeholder and co-production perspective. Different audiences could participate and engage in this knowledge sharing space, citizens, technicians, political representatives, researchers, practitioners.
REGISTER HERE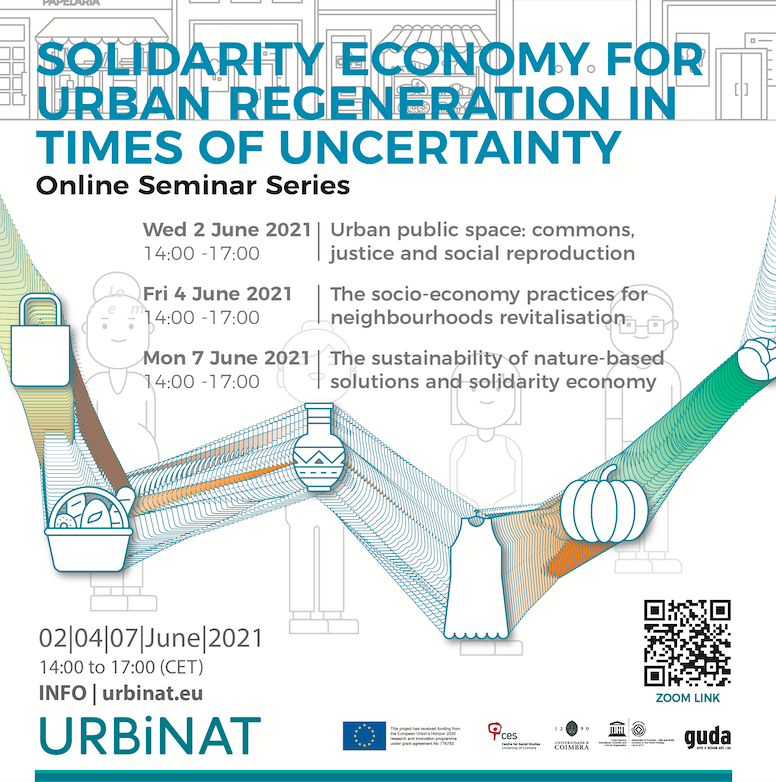 2 JUNE  – URBAN PUBLIC SPACE: COMMONS JUSTICE AND SOCIAL REPRODUCTION

Welcome and introduction:
– Nathalie Nunes (CES): URBiNAT short presentation
– Beatriz Caitana (CES): Seminar overview and how the solidarity economy has been introduced in the Healthy Corridor
Moderator: Laetitia Boon (Ville de Bruxelles)
Speakers:
– Pedro Hespanha  (Ecosol – CES): Inclusive and dynamic neighbourhoods through solidarity economy
– Rogério Roque Amaro (ISCTE): Solidarity Economy, community development and the commons: rethink the public space production
– Luciane Lucas dos Santos (Ecosol – CES): Urban Regeneration and minority women: can SE contribute to environmental justice within the urban space? 
– José Castro Caldas (CES): The commons and the market or the virtues of impure orders
– Jason Nardi – Intercontinental network for the promotion of social and solidarity economy (RIPESS Europe): RIPESS and the role played by EU networks towards environmental issues within the public agenda
Open discussion with participants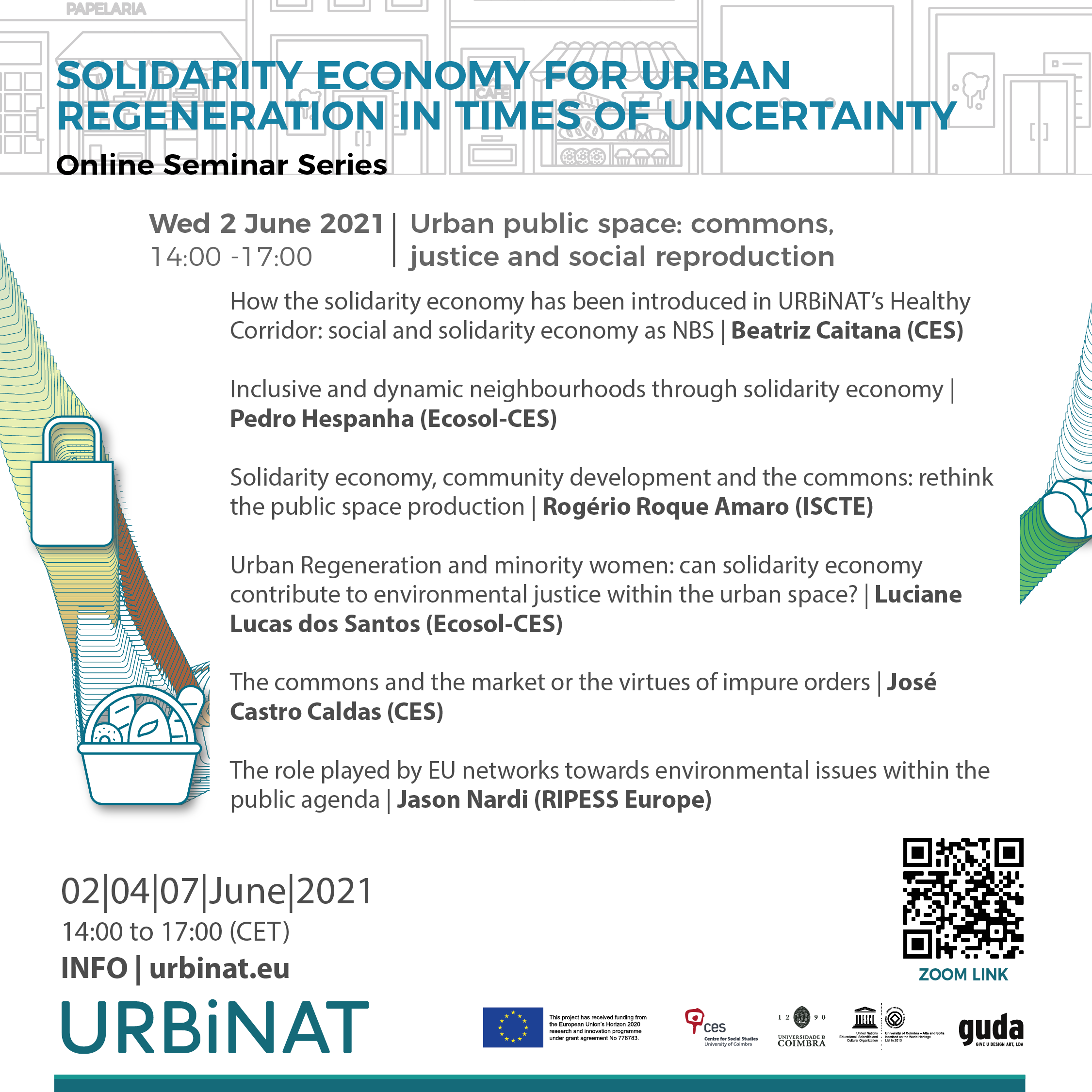 PEDRO HESPANHA - CES/FEUC
Sociologist and founding member of CES and member of URBiNAT's Scientific Commission. 
Retired Professor at the Faculty of Economics, Uni. of Coimbra. Visiting professor at several foreign Universities;
Main researcher and PI  in several national / international research projects dealing with active social policies, social exclusion and poverty, employment and unemployment experiences and strategies;
Since 2008 is coordinating  the Research Group on Solidarity Economy (ECOSOL/CES);
Research interests: rural studies, social policies, sociology of medicine, poverty and social exclusion.
ROGÉRIO ROQUE AMARO -ISCTE
Associated professor, Department of Political Economy, the Instituto Universitário de Lisboa – ISCTE and member of URBiNAT Scientific Commission. 
PhD from the Université des Sciences Sociales II of Grenoble 
Coordinator of Economy  and globalization from Centre for International Studies
Teaches Development and Social and Solidarity Economy. President of the Scientific Council and founding partner of the Centre for Studies for Solidarity Economy of the Atlantic (Ponta Delgada). Director of the Review of Solidarity Economy. 
Founder of RedPes – Portuguese Network of Solidarity Economy. 
LUCIANE LUCAS DOS SANTOS - CES
Researcher at the Centre for Social Studies, University of Coimbra, taking part in the Research Group on Democracy, Citizenship and Law (DECIDe) and member of URBiNAT's Scientific Commission.
PhD in Communication and Culture from the Federal University of Rio de Janeiro (2004) and a Master's Degree from the same institution (1999), having had an academic career as an assistant professor at the State University of Rio de Janeiro (UERJ/Brazil).
Co-coordinate the Research Group on Democracy, Citizenship and Law and member of the staff in the PhD Programme. 
Visiting Professor at the Federal University of Southern Bahia (Brazil), being part of its Doctoral Programme's staff. 
Current research interests are feminist economics, feminist aesthetics, postcolonial feminisms, postcolonial studies on consumption and Economics, poverty and social inequalities from an intersectional perspective, European identities and the Otherness. 
JOSÉ CASTRO CALDAS - CES
Economist and a researcher at the Collaborative Laboratory for Work, Employment and Social Protection (CoLABOR) and at the Centre for Social Studies (CES) of Coimbra University. 
As an assistant professor at the Economics Department of ISCTE in Lisbon he has taught and researched among other subjects on the History and Philosophy of Political Economy.
His present main research interests include personal and collective deliberation, institutional economics and the history of economics. 
JASON NARDI - RIPESS
President of RIES (Italian Solidarity Economy Network) and co-founder of Solidarius Italia (solidarius.it), 
Background in communication and media (Princeton University, USA and a Master's degree from the University of Florence)
General delegate of RIPESS EU – Solidarity Economy Europe and former coordinator of the international board of directors of RIPESS, 
Active member of the International Council of the World Social Forum and promoter of the World Social Forum on Transformative Economies. 
Former director of Unimondo, the Italian centre of Oneworld.net – an international portal on global rights – and worked for the Fondazione Finanza Etica and the annual Terra Futura event;
Promotes projects of CSA (Community Supported Agriculture), mutualism (in MAG Florence) and the Forum Firenze Beni Comuni (Florence Commons forum).
4 JUNE – THE SOCIO-ECONOMY PRACTICES FOR NEIGHBOURHOOD REVITALISATION 

Moderator: Iuri Bruni (Comune di Siena)
Speakers:
– Jose Luis Fernandez-Pacheco (Univ. de Extremadura – Spain): Solidarity markets, social currencies and the public space: challenges and opportunities 
– URBiNAT front-runner cities: Healthy Corridor – solidarity economy NBS from front-runners cities
Porto – Ana Ferreira (CMP)
Sofia – Nadezhda Savova – Grigorova (Bread House Network)
Nantes – (to be confirmed)
– Andrés Spognardi (Ecosol – CES): Cities, food waste and the solidarity economy: The case of Portugal
– Chiara Farinea (IAAC): CO-mida: Advanced Community gardens and short agri-food circuits 
Discussant:  Dr. Ina Säumel (EdiCitNet)
Open discussion with participants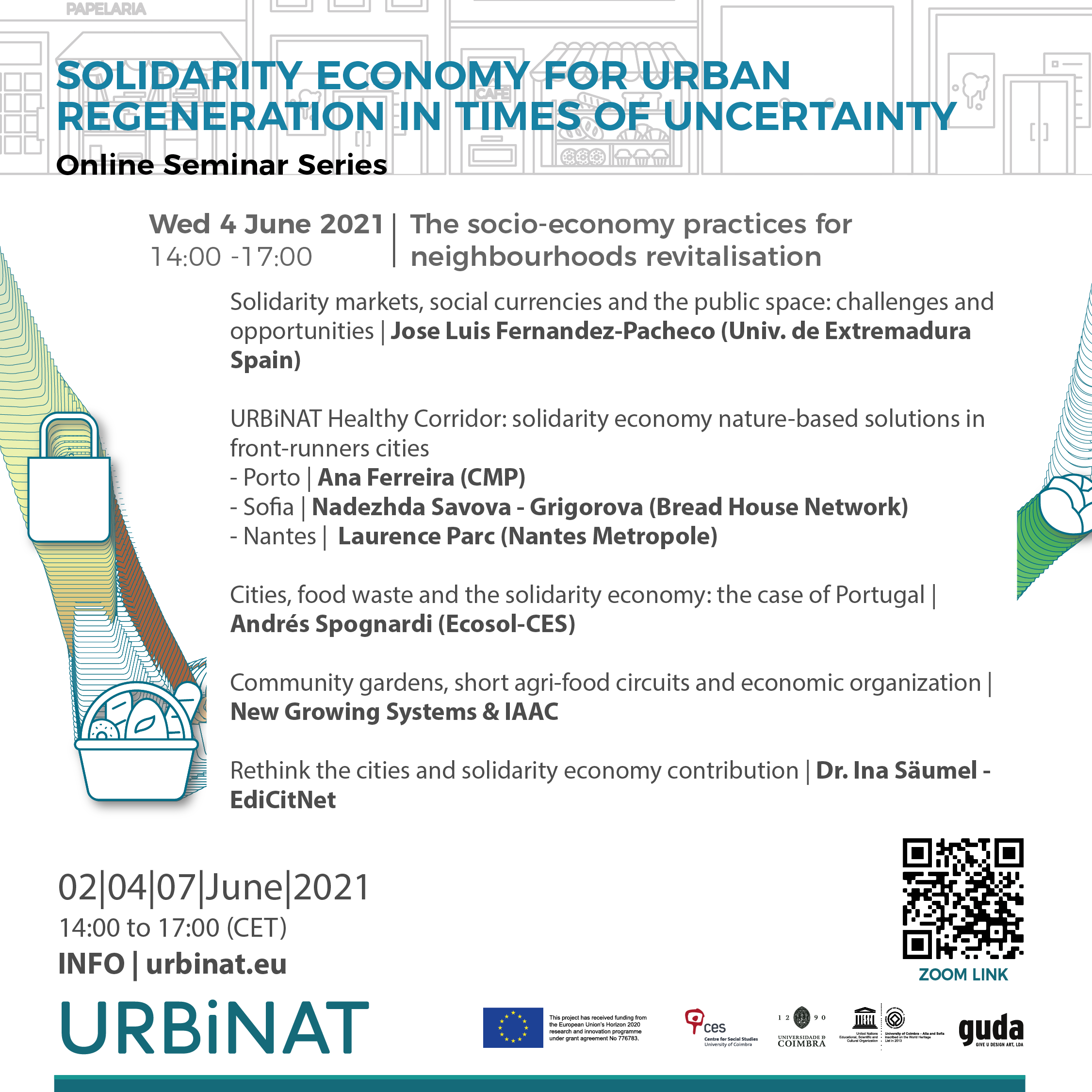 Jose Luis FERNANDEZ-PACHECO
Universidad de Extremadura
Sociologist, Social Worker and professor at the University of Extremadura and member of URBiNAT's Scientific Commission.
– Technician in Local Community Development projects linked to the Social and Solidarity Economy;
– PhD in Sociology from Complutense University of Madrid from a doctoral dissertation about strategies of Local Development in vulnerable rural environments through community savings, participation and social currencies, a comparative study case of Spain and South Africa;
– Member of the NGO BioRegional Economics (EBR) and of the Social Currency Institute (IMS) for the promotion of dynamisation processes that foster social and complementary currencies.
–  Member of the core group in the ESCUTA project (Erasmus +) to promote the Social and Solidarity Economy through the participation of the university students, as well as two social currencies, one for the Island of São Miguel (Azores-Portugal) and another one in Cáceres region (Extremadura -Spain).
Andres SPOGNARDI
PhD in Political Science from the Scuola Normale di Pisa (Italy). 
Currently, he is a senior researcher at the Centre for Social Studies, at the University of Coimbra (Portugal).
His work examines the role of socioeconomic and political institutions on the development and performance of social and solidarity economy organizations.
Ana Ferreira
URBiNAT Project manager at Porto Municipality
Biologist with an MSc in Conservation Biology and an MBA;
Specialised in the management of projects related to the recovery of urban ecosystems (mainly related to urban water bodies) with science and nature-based approaches, implementation of circular economy strategies related to plastics reduction and sustainable procurement in the municipality;
Interest in the implementation of innovative and sustainable projects with a systemic and integrated view, encompassing social, economic and environmental dimensions, and involving different actors from all sorts of backgrounds.
7 JUNE  - The sustainability of nature-based solutions and solidarity economy

Moderator:
Gonçalo Canto Moniz (CES)
Speakers:
– Silvia Ferreira (FEUC/CES) (to be confirmed): Nature-based Solutions as opportunities for social enterprises (provisional title)
– Luise Noring  (City Facilitators): Social and Solidarity Economy NBS and market potential (provisional title)
-Nathalie Vallet  (University of Antwerp): Exploring ways to measure the social-economic impact of NBS: the use of the SROI
– Knud-Erik Hilding-Hamann (DTI): Social entrepreneurship for increased participation and improved employability – cases from Nordic countries
– Marco Acri  (UNG Project CLIC): Merging urban landscape regeneration and circular economy
– Fábio Sampaio  (CES): Urban regeneration and social innovation: Social and Business Opportunities
Discussant: Milena Tasheva-Petrova (UASG)
Open discussion with participants
Seminar  Wrap-up
Gonçalo CANTO MONIZ (CES)
Silvia FERREIRA (FEUC/CES)
Luise Noring  (City Facilitators)
Nathalie VALLET (Uni. Antwerp)
Knud-Erik HILDING-HAMANN (DTI)
Marco Acri (Uni. Nova Gorica)