Workshops with Children and a Guided Walkthrough along the Koren Waterway
In December, the Municipality of Nova Gorica jointly with the Centre of Architecture of Slovenia, held a series of workshops at the Nova Gorica Nursery School and Fran Erjavec Primary School, as part of the co-design phase of the international project URBiNAT. The events were organised as part of the Municipality's "Playful Architecture" programme.
Five-year-old children from the nursery school and third-graders from the primary school took part in the six workshops. The intention was to include the youngest users of the area in the participation process. The workshops were divided into  two parts. The architects, members of the Centre of Architecture of Slovenia, had prepared worksheets that the children filled in. They visited the area along the Koren together with their teachers a few days before the workshops took place.
During the visit, the children collected small forest fruits, twigs, leaves and pebbles. At the beginning of the workshops, they discussed with the moderators about what they had seen in the area. The moderators either read a fairy tale about the architect Igi or presented the profession through a group exercise, so that the children could understand as easily as possible what architects do or what they can draw.
Later on, the children drew or made scale models of what they want to be implemented in the Koren area. The results of the workshops showed that children want more contact with water, well-kept banks, more bridges made of natural materials, playgrounds by the water, sports fields for various sports, even more greenery, etc. The teachers were also satisfied with the workshops, as the children were able to express their creativity and use their manual skills. The teachers themselves expressed their desire to have an outdoor classroom.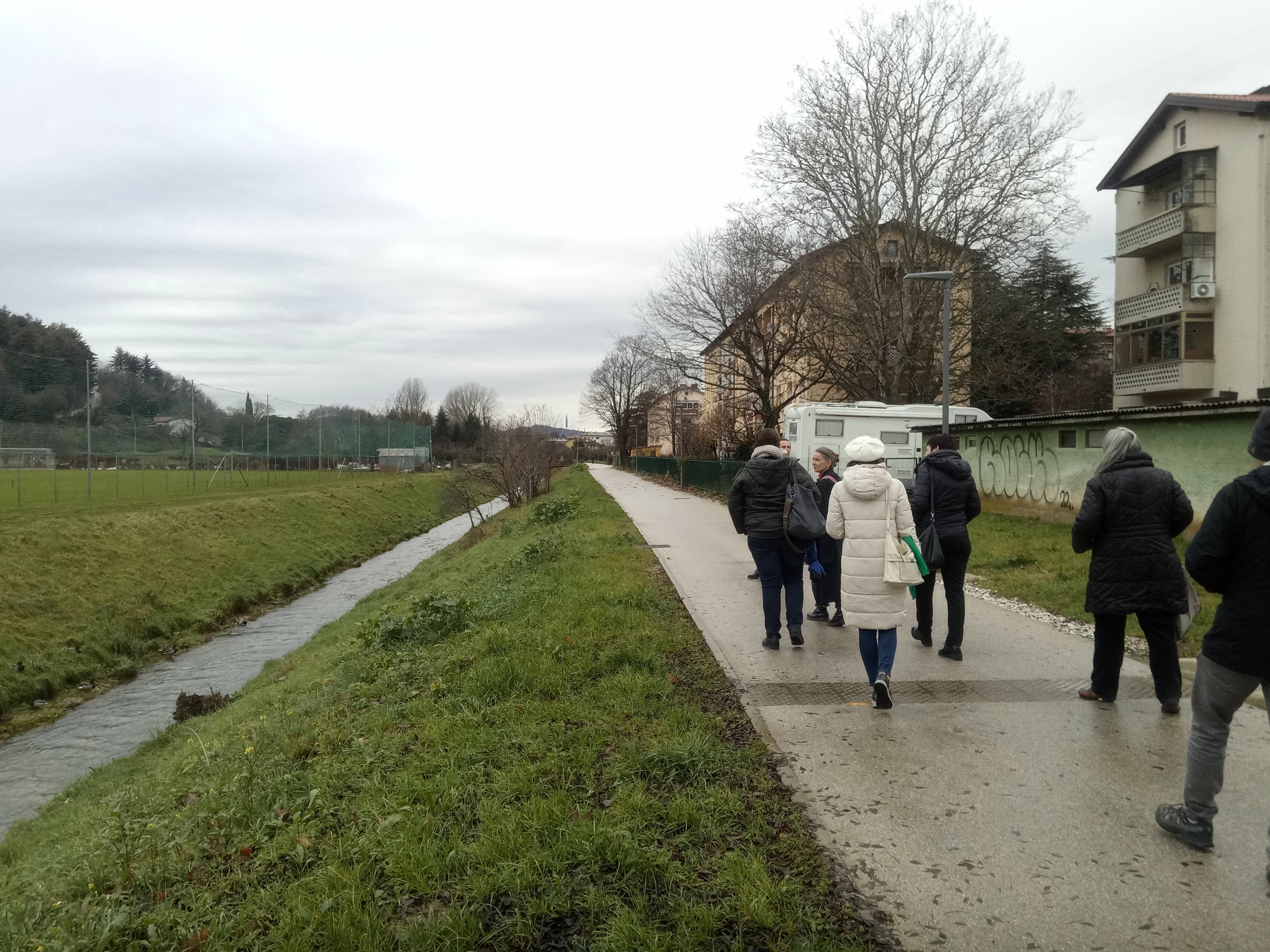 On Saturday, 17th December 2022, a guided walkthrough along the Koren Stream was held, as part of the "co-design phase" of the URBiNAT project, during which the experts from the University of Nova Gorica and the Municipality of Nova Gorica presented the nature-based solutions (NBS) to the participants that could be suitably implemented in the treated area. The presented solutions were selected based on the participation process results. Several target groups of users of the cross-border Nova Gorica/ Gorizia space were included in the participation process between the years 2021 and 2022.
The walkthrough was also attended by the representatives of a civil society, namely the members of the Lobodika Association, who showed a great interest in arranging the area in a nature-friendly manner, but at the same time expressed their concerns regarding the possibility of constructing new buildings in the treated area. They warned that a higher level of construction would lead to the destruction of current green areas, with the already existing habitats, and at the same time it would be impossible to develop public green areas intended for quality leisure time for visitors and residents of both cities.