"For a better urban future" - URBiNAT at the World Urban Forum 2022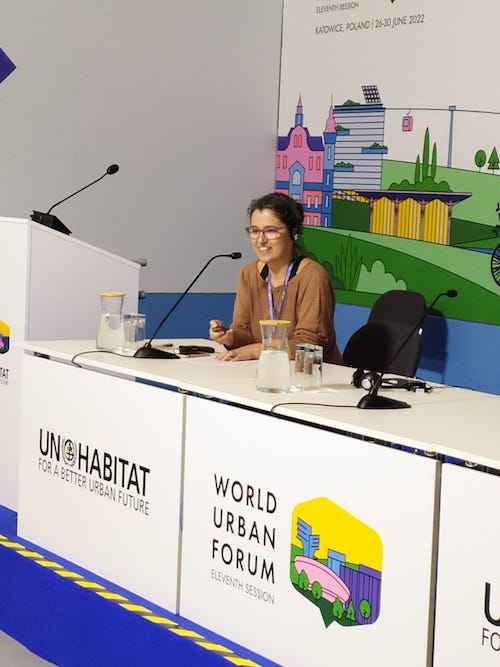 Isabel Ferreira, researcher CES-UC and co-coordinator of URBiNAT / WUF11 - 28 June 2022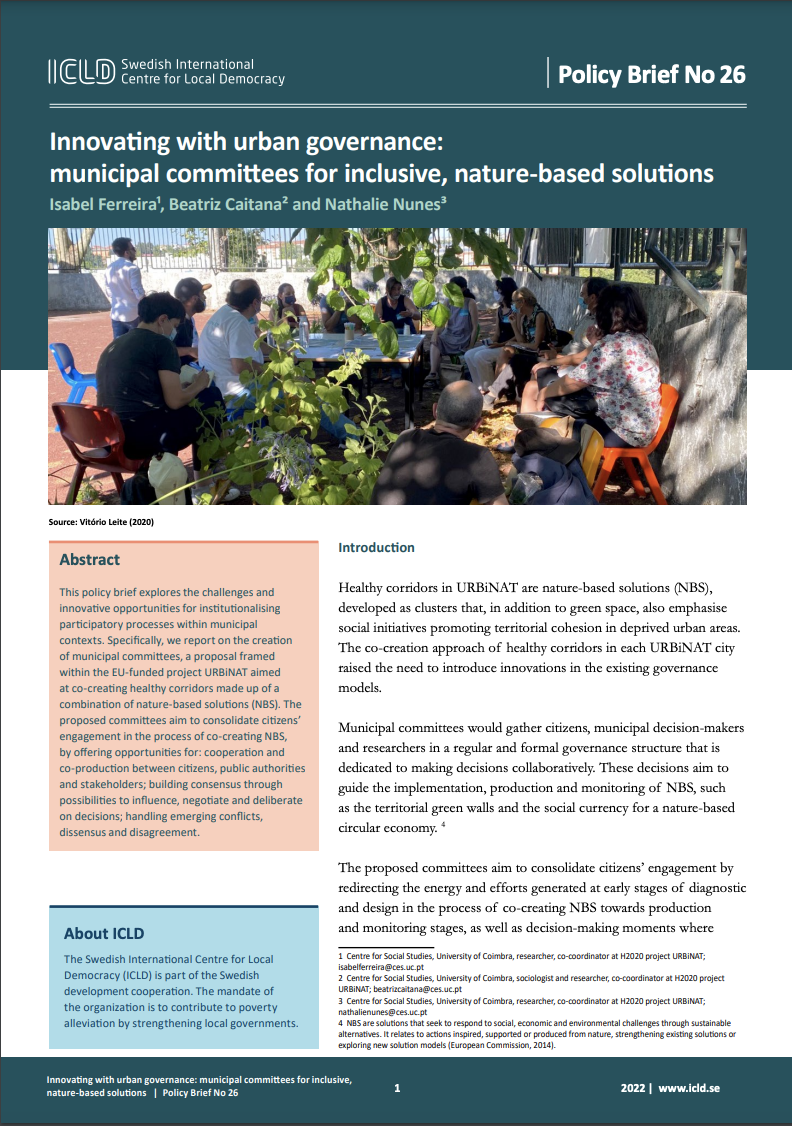 Policy brief - "Innovating with urban governance - municipal committees for inclusive, nature-based solutions" (I. Ferreira, B. Caitana, N. Nunes, 2022)
Participants were particularly enthusiastic about the most challenging aspects of collaborative governance, including aspects related to meaningful processes and inclusive approaches. While local governments are often looking for concrete solutions, the research conducted within URBiNAT illustrates the need to take into account key democratic aspects of nature-based solutions, such as building consensus through possibilities to influence, negotiate and deliberate on decisions; handling emerging conflicts, dissensus, and disagreement.
Organized by the United Cities and Local Governments (UCLG), the Guangzhou Institute for Urban Innovation, and the ICLD, the session involved participants in Q&A and interactive games to simulate a peer-learning exercise. Such exchanges are not only aimed at promoting the documentation of practices to be shared between cities but also at better connecting knowledge in administrations to academia.
According to Isabel Ferreira, nature-based solutions as much as co-governance were two important topics at the WUF11, demonstrating the high relevance of the action research undergoing in URBiNAT. The relevance of feminist approaches to public space was also very clear in a number of sessions dedicated to the topic and gave her the opportunity to network with female activists from North America and Africa. We are already planning to organize a couple of sessions for the upcoming WUF12! Stay tuned through our community of practice!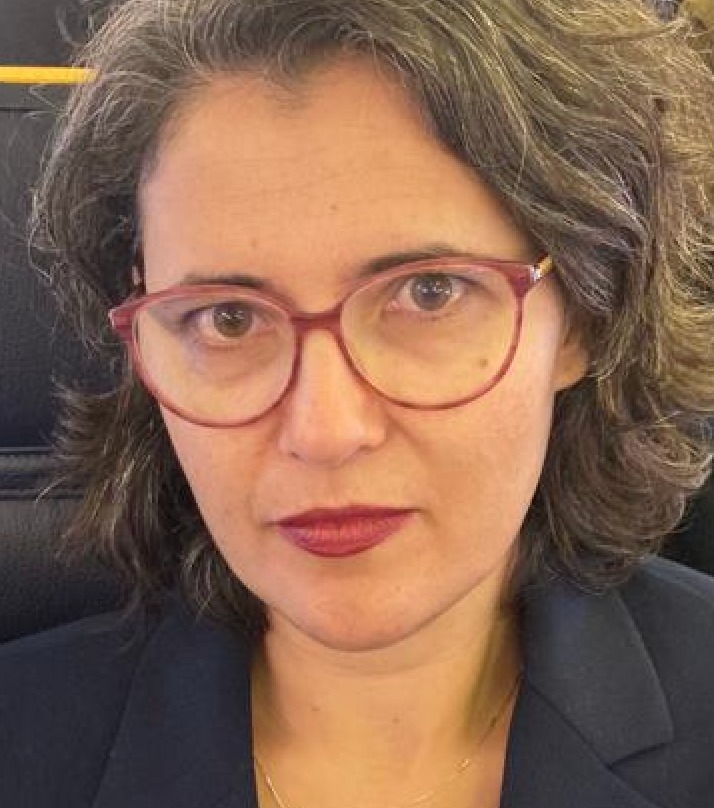 Porto
Isabel Ferreira
Project Co-Coordinator CES-UC
Portuguese researcher at the Centre for Social Studies of the University of Coimbra, she is a member of the co-coordination team of the URBiNAT project, focusing on its participation and governance components. She holds a PhD in Sociology, Cities and Urban Cultures, with the thesis dissertation "Governance, citizenship and participation in small and medium-sized cities: a comparative study between Portuguese and Canadian cities", funded by the Foundation for Science and Technology (SFRH/BD/129936/2017) and mobility grants from the Calouste Gulbenkian Foundation and the International Council of Canadian Studies.  Between 2015-2016 she integrated the team of the H2020 project EMPATIA. Since 2015, she also has been collaborating regularly with the Executive Agency for Research (European Commission) as an independent expert. She graduated in Geography, with specialization in Environmental Studies at University of Coimbra (Portugal), and specialized in Environmental Impact Studies at University of Murcia (Spain), and holds a Master in Territorial and Environmental Planning at the New University of Lisbon (Portugal). Her professional experience is mainly related to local planning in environmental, territorial, cultural, educational and sports planning, having held technical functions at the Municipality of Barcelos where she coordinated, collaborated and developed various plans and projects between 2001 and 2012.
[Policy Brief] Innovating with urban governance: municipal committees for inclusive, nature-based solutions
This policy brief explores the challenges and innovative opportunities for institutionalising participatory processes within municipal contexts. Specifically, we report on the creation of municipal committees, a proposal framed within the EU-funded project URBiNAT aimed at co-creating healthy corridors made up of a combination of nature-based solutions (NBS). The proposed committees aim to consolidate citizens' engagement in the process of co-creating NBS, by offering opportunities for: cooperation and co-production between citizens, public authorities
and stakeholders; building consensus through possibilities to influence, negotiate and deliberate on decisions; handling emerging conflicts, dissensus and disagreement.
Download
D3.2: Community Driven Processes to Co-Design and Co-Implement NBS
Deliverable 3.2 (D3.2) is the second deliverable of work package 3 (WP3) on citizens' engagement. D3.1, submitted in month 12 of the project, reported on the strategic design, use of participatory solutions and relevant digital tools in support of the uptake of n ature-based solutions ( NBS). D3.2 reports on the advancements of the URBiNAT project in tailoring participatory methods and tools to city cultures for the co-design and co-implementation of NBS processes.
Download